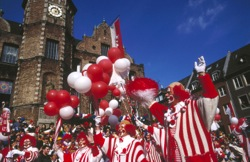 One of the winter's world party highlights
Düsseldorf, Germany (PRWEB) October 15, 2014
Many international travelers choose Germany because it is a safe and well organized destination. Why then is Düsseldorf, one of its cleanest and most prosperous cities, the center of some of the country's longest and wildest festivities? Because it can. On November 11, at 11:11 am, the people of Düsseldorf and anyone who wants to join in get official permission to spend the next four months in party mode. What a way to spend the winter!
Düsseldorf's carnival is more than just a way to pass the cold season. The city has having fun down to a science. With about 300 hundred carnival-related events, costume balls, sessions and more, the city becomes a magnet for party goers who join the locals all over the city. Most carnival activity happens in the historic Old Town – with more than 260 bars and pubs in under a square mile also known as the "Longest Bar in the World."
The four months of carnival fun lead up to the season's biggest events and one of the region's biggest outdoor parties, Rose Monday (February 18, 2015), when a parade of costumes and floats moves through the city with a million people attending.
In addition to "Hoppeditz Awakening" and "Rose Monday Parade," highlights include: "Old Ladies' Carnival" on February 12, when women take over city hall and cut men's ties off with scissors, a "Youth Procession" on February 14, a family-oriented "Carnival Sunday" on famous shopping boulevard Königsallee on February 15, and a "Barrel Race" – people in barrels racing – on February 15.
People from all over the world attend carnival season and the Rose Monday spectacle, and getting there from North America is easy: non-stop flights from eight North American to Düsseldorf Airport (DUS) allow party goers to arrive with much energy left for enjoying one of the winter's world party highlights.
For more information about Carnival in Düsseldorf and about hotel and visitor specials, visit http://www.duesseldorf-tourismus.de/en/our-top-events/carnival/.
Düsseldorf's tourism office is offers a hotel and city carnival special for stays between February 12 -17, 2015. The package, called "Carnival in Düsseldorf," can be booked right from the tourism office's website at https://www.duesseldorf-tourismus.de/en/accommodation/hotel-packages/hotel-package-carnival-in-duesseldorf/. Prices start at €69 per night per person based on double-occupancy for a 2-3-star hotel in the city center and at €76 per person for a 4-star hotel. The package includes breakfast and a breakfast board with carnival motif, one DüsseldorfCard (free public transportation within city limits plus 30 free or reduced admissions to city attractions), and a city information package. Please check the website for current information.
For more information about Düsseldorf, please visit: http://www.visitduesseldorf.de.
# # #
Düsseldorf Marketing & Tourism GmbH is the visitors and convention bureau of the city of Düsseldorf. Its responsibilities include tourism and city marketing, as well as conference and meeting marketing, hotel reservation services, fairs and convention services, city event ticket sales and advance ticket reservations. For more information, visit http://www.visitduesseldorf.de.
Düsseldorf Airport, Germany's Next Generation HubTM, offers several non-stop flights from US & Canadian cities (Atlanta, Chicago, Ft. Myers, Los Angeles, Miami, New York, Newark, Toronto), as well as convenient connections to many European cities. For more information about the airport, visit http://www.dus.com.