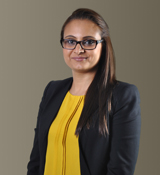 Her portfolio of clients encompasses a wide range of offences from murder, high value serious fraud often involving issues of extraterritoriality. Duncan Lewis are proud to welcome Rajvinder.
London, United Kingdom (PRWEB UK) 15 October 2014
Legal 500 2014 recommended legal firm Duncan Lewis Solicitors are pleased to announce the appointment of Serious Fraud Solicitor Rajvinder Dawal to their Crime and Prison Law department as a Consultant Solicitor in the firm's Harrow branch.
Duncan Lewis is a leading provider of Crime and Fraud legal services. Rajvinder will be joining the firm's existing 36 Crime Duty Solicitors in the firm's General Crime and Fraud department which deals with high value cases over £100, 0000 often involving extraterritorial issues and restraint.
Rajvinder joined Duncan Lewis in 2014 from a medium sized London based practice. Since then Rajvinder has continued to build her formidable reputation having been involved in some of the most serious fraud cases of recent times. Her professional expertise, dedication and unwavering commitment to defence work have won her a loyal client base.
Rajvinder belongs to a small group of Solicitors who are not on the duty schemes as she has a strong client base, which crosses racial and geographical divides. Her work ranges from the North of England to the South West coast through to Cornwall. Rajvinder advises and defends in a broad spectrum of criminal and regulatory matters, including investigations and prosecutions by the Serious Fraud Office, the Financial Services Authority, the Crown Prosecution Service and Her Majesty's Revenue and Customs. Many of these cases possess international or multi-jurisdictional elements. Rajvinder has therefore developed a good knowledge of extradition law and frequently advises both UK-based and foreign clients resisting extradition to and from the United Kingdom.
Rubin Italia, Director of the Duncan Lewis Solicitors Crime Department added;
"I have known Rajvinder Dayal for a number of years through co-defending in various matters. I am pleased that she is now a valued member of the Criminal Team at Duncan Lewis, enhancing an already specialist team. Rajvinder brings to Duncan Lewis a loyal following she has established in Very High Costs Cases (VHCC), and Serious Crime.
Her portfolio of clients encompasses a wide range of offences from murder, high value serious fraud often involving issues of extraterritoriality. Duncan Lewis are proud to welcome Rajvinder and are certain that this relationship will bring her and the firm much success. "
Rajvinder has been involved in a plethora of notable cases spanning across fraud, drugs, blackmail and violence.
Rajvinder's work is recognised by leading peers in the Crime and Fraud legal industry and she boasts an outstanding reputation backed by testimonials from a number of QCs.
Courtney Griffiths QC said of Rajvinder; "(Rajvinder is) hard working and diligent and always pays attention to the detail of her cases. She demands the highest standards from those she instructs. As an individual her pleasant manner hides a core of steel when it comes to defending her client's interests. She is very people friendly and always displays a caring and attentive attitude towards her clients."
Mark Dennis QC said; "Rajvinder is a very hardworking and conscientious lawyer. In my experience she has always shown sound and sensible judgment when dealing with the variety of difficult issues that can arise in any criminal proceedings. I have always been particularly impressed by the consistent standard of her client care. It is of a high level which gives confidence not only to the client but also to Counsel."
Rajvinder joins the team of Fraud Solicitors at Duncan Lewis with offices across London and the UK Nationwide. Duncan Lewis fraud solicitors are able to advise at any stage of a charge for fraud, including charges relating to financial fraud or boiler room scams.
Duncan Lewis can also advise on fraud charges involving:

Benefit fraud
Blue Badge fraud
Company fraud
Credit card fraud
Conveyancng fraud
Housing fraud
Identity fraud
Mortgage fraud
Passport fraud
Ponzi schemes
Ticketing fraud
Visa fraud.
About Duncan Lewis
Duncan Lewis, established in 1998, is the largest civil legal aid practice in the UK and one of the country's fastest growing firms of solicitors, serving both corporate entities and private individuals from offices across London and throughout the UK. A recommended leading law firm by Law Society Lexcel, Legal 500; Duncan Lewis employs over 500 members of staff and was the first law firm to achieve the Investors in People Gold Quality Standard Mark in 2009. Representing over 25,000 clients per year, the company has an excellent reputation in the Administrative Court, High Court and Court of Appeal in the Immigration, Public law and Family/Child Care jurisdictions.
Established areas of law are: business immigration, child care, civil liberties, clinical negligence, community care, crime and fraud, dispute resolution, debt and insolvency, employment, family and divorce, housing, asylum and immigration, Islamic law, litigation, mental health, personal injury, prison law, professional negligence, public law and administrative law, regulatory matters and welfare benefits.