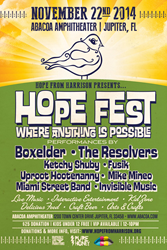 When our son was born, we had good insurance, a savings account and family support and yet, every day was challenging. The money ran out quickly and we could not have made it without loving, compassionate support from friends and family
Jupiter, Florida (PRWEB) October 24, 2014
Hope From Harrison is pleased to announce that its first annual one-day community festival will be held at Abacoa Amphitheater in Jupiter, Florida, on Saturday, November 22, 2014 from noon to 10 p.m. HopeFest will feature live music and entertainment, along with arts & crafts, a Kids Zone with sports & interactive activities, delicious food, craft beer and many other surprises.
The musical guests include a rare appearance of Jupiter's own Boxelder, the reunion of Invisible Music, and The Resolvers, Ketchy Shuby, Fusik, The Miami Street Band, Uproot Hootenany and Mike Mineo.
In honor of their late son Harrison, Hope From Harrison provides resources, awareness and hope for families of children with critical needs. The organization is dedicating this year's event to several local Palm Beach County children and their families. Proceeds from the event will go directly to these families to help pay medical bills, living expenses, insurance costs, and other expenses.
Currently, the event sponsors include: Cartoon Cuts, Eyes on the Island, Deals on Wheels, Renato's, Mandel JCC, Bridges, Marsh & Associates, Argonaut Productions, The Law Office of Todd S Stewart, Art By Nature, Associated Property Management, Chau Wall & Associates, Cobblestone Realty, Margaritaville, P.U.P Pavers, Robyn Barkley Photography, and Brotherly Love Productions.
The non-profit organization was founded by Matt and Melissa Hudson whose son, Harrison, was born with numerous medical problems. Matt spoke about their journey saying, "When our son was born, we had good insurance, a savings account and family support and yet, every day was challenging. The money ran out quickly and we could not have made it without loving, compassionate support from friends and family."
His wife, Melissa adds, "We loved Harrison so much and were so blessed to have him in our lives even for that short period of time. As parents, we wanted to be there every moment for him, but it was exhausting. You feel as if you're on an island by yourself and there's a big storm overhead."
Two families in particular will benefit from proceeds from this year's event. Tadd & Jilian are parents of twin boys who were born three months prematurely.
The other family has a baby boy named Kaden who was diagnosed with Spinal Muscular Atrophy (SMA) Type 2 before his first birthday.
Tickets:
$25 donation
Kids twelve & under no charge
http://www.hopefest2014.eventbrite.com
When/Where:
Saturday, November 22 from noon – 10pm
Abacoa Ampitheater
1200 Town Center Drive, Jupiter FL 33458
http://www.Abacoa.com
About Hope From Harrison: Hope From Harrison is a registered Florida non-profit corporation with 501(c)-3 tax-exempt status with the IRS. All donations are tax-deductible.
Donate to Hope from Harrison:
http://www.gofundme.com/HopeFest
http://bit.ly/HopeFest14SponsorDeck
Media Contacts:
Hope From Harrison
Matt Hudson | 561.319.2474 | Matt(at)HopeFromHarrison.org
Brotherly Love Productions
Destiny Spang | 215.704.9554 | Destiny(at)BrotherlyLoveProductions.com