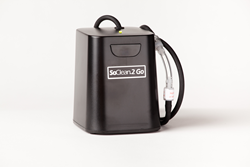 Boston, MA (PRWEB) October 21, 2014
The SoClean 2 Go is the perfect travel companion for any CPAP user – whether they work in the transportation industry or simply spend a lot of time away from home. Weighing 1.3 lbs. and measuring 4.3" x 3.9" x 4.9," the SoClean 2 Go is small enough to fit anywhere, but powerful enough to kill 99.9% of CPAP germs, using the same 100% natural sanitizing process found in water purification, produce handling, hotel housekeeping and hospital sanitization.
The SoClean 2 Go is easy to use. Simply connect it to your CPAP equipment, place the CPAP mask into the sanitizing bag, tighten and press the button. It's battery operated, allowing for a wire-free, portable experience.
"I am a truck driver from Canada who has been using a CPAP machine for years now to treat my sleep apnea. It has made a real difference in my life. My only problem was how to clean my CPAP when on the road," said Wendell, a commercial truck driver. "Cleaning my equipment now takes about 10 seconds of my time thanks to the SoClean 2 Go. It could not be easier for me. I take the SoClean 2 Go with me everywhere when I travel. This thing is a must for truckers or people who sleep away from home with CPAP devices."
More than 18 million Americans have been diagnosed with sleep apnea, and CPAP therapy is a common method of treatment for this disorder. CPAP equipment should be cleaned daily, but is often neglected, preventing sleep apnea sufferers from effectively using their CPAP machines and putting them at risk of contracting an illness.
To help sleep apnea sufferers overcome this challenge, Better Rest Solutions has created CPAP cleaning devices that automatically sanitize CPAP equipment, using safe, natural, activated oxygen.
"As someone who has intimate experience with sleep apnea, I know how difficult it can be to keep CPAP equipment clean and sanitized – especially away from home. At Better Rest Solutions, we hope that the SoClean 2 Go will make it easier than ever for travelers and transportation industry workers to clean their CPAP equipment and get the most out of these effective devices," said Mike Schmidt, President, Better Rest Solutions.
Mike and his team will be at Medtrade, the largest Home Medical Equipment Expo and Conference in the United States, in Atlanta, Georgia, from October 20-23. If you're interested in learning more about the SoClean 2 Go and you will also be at Medtrade, you can visit them at Booth 2561 at the Georgia World Congress Center.
About Better Rest Solutions
Better Rest Solutions was founded in July 2011 in Uxbridge, Massachusetts, with the goal of improving the health and quality of life of those who suffer from obstructive sleep apnea (OSA) and other sleep disorders.
Founder Mike Schmidt and SoClean creator Tim Leyva both have personal experience with sleep apnea. As such, they recognized the challenges faced by CPAP users and began to understand how failure to properly clean CPAP equipment could interfere with effective CPAP therapy.
With so many suffering from OSA and many more being diagnosed every day, Better Rest Solutions remains committed to meeting OSA sufferers' ever-growing needs. This commitment is what led to the development of the SoClean, a first-of-its-kind product that has revolutionized CPAP cleaning and sanitizing, and the SoClean 2 Go, an automated CPAP sanitizer for travel.
For more information about Better Rest Solutions, visit: http://www.betterrestsolutions.com.
SoClean is a registered trademark of Better Rest Solutions.