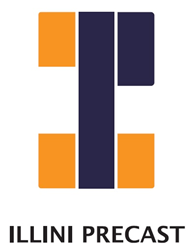 BETHLEHEM, Pa (PRWEB) October 15, 2014
Illini Precast (illiniprecast.com), Westchester, Ill., has joined AltusGroup (altusprecast.com) to market CarbonCast Double Tees in the Upper Midwest. Illini Precast is the fifth precast manufacturer to join AltusGroup in the past 20 months and brings the total number of North American precasters in the organization to 18, an all-time high.
Illini Precast will manufacture CarbonCast Double Tees in its Marseilles, Ill., and Burlington, Wis., locations for parking structures across Northern Illinois, Wisconsin, Indiana, and Michigan. The CarbonCast license and AltusGroup membership will give them additional technical capability and product line expansion to meet the demanding needs of the region and the parking industry noted Craig Wagenbach, Illini Precast President.
Coincidentally, the Burlington, Wis., plant was the first precast plant in world to fabricate CarbonCast Double Tees for a commercial application. The facility, which at the time was owned by J.W. Peters, produced CarbonCast Double Tees for the top level of a parking structure in Wisconsin. The garage is still in operation.
CarbonCast Double Tees use C-GRID carbon fiber grid as a replacement for welded wire mesh in double tee flanges. The non-corrosive nature of C-GRID reduces the amount of concrete cover that's necessary to protect the reinforcing. As a result, CarbonCast Double Tee flanges can be thinned to 3-1/2", reducing a tee's weight by 8 percent. Additionally, they eliminate the need for corrosion inhibitors and sealers upon commissioning and throughout the life of the garage.
Illini Precast and its co-owned company, KW Precast, have more than 40 years of experience in the precast industry. They specialize in precast parking-structures for health care, commercial, residential and municipalities, as well as precast bridge beams. Illini Precast is an integrated supplier of precast parking structures offering precast columns, beams, double tees, wall panels, stairs, sealer-sealant, pour strips, and erection.
"Illini Precast and KW Precast have built their reputations on the parking garage market. The addition of CarbonCast Double Tees to their product offerings will strengthen their position as innovative, market-leading companies," said John Carson, executive director of AltusGroup. "CarbonCast Double Tees should be particularly appealing to garage owners in the upper Midwest, where salt from roads during the winter months can damage the driving surface of parking structures. Non-corrosive C-GRID reinforcing in the flanges eliminates the possibility of corrosion there."
AltusGroup precast concrete manufacturers have installed more than 30 million square feet of CarbonCast surface area on over 700 structures since introducing the technology in 2004.
About AltusGroup
The first-ever national partnership of precast companies, AltusGroup was founded in 2003 to develop, manufacture and market precast innovations such as the award-winning CarbonCast® line of products featuring C-GRID carbon fiber grid reinforcing. With more than two dozen structural and architectural locations in the United States, the 18 North American and three international AltusGroup companies have an unparalleled network of manufacturing plants, technical staff and sales personnel to ensure architects, engineers and contractors get the help they need—and the quality and performance they expect—when they select CarbonCast products. For more information, visit altusprecast.com or call 866-GO-ALTUS.
# # #