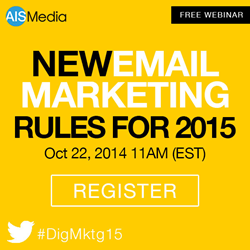 Email marketing has an average return on investment (ROI) of $44.25 for every dollar spent. That's 4301% ROI.
Atlanta, GA (PRWEB) October 16, 2014
In part 3 of the 6-part Digital Marketing Webinar Series, AIS Media Inc., will reveal the "must-know" marketing tactics driving email success in today's marketplace. Moving into 2015 email remains the "workhorse" of direct digital marketing. Learn how to leverage email marketing to build awareness, drive website traffic, amplify customer engagement, leads and sales. Join AIS Media CEO, Thomas Harpointner, Wednesday October 22, 2014 at 11:00 am (EST). The agenda includes:

Setting reasonable expectations for your campaign
Avoiding common mistakes that suppress clicks and conversions
Mastering subject line techniques that boost open rates
Identifying the frequency and offers you need for strongest results
Determining if you are over-mailing
Evaluating the success of every email
And much more!
Details and registration: http://newrulesemailmarketing.aismedia.com/
Sign up today and become an expert yourself through AIS Media's "New Digital Marketing Rules 2015" webinar series. Gain insights on unique digital challenges marketing professionals face, how to accelerate the customer journey and amplify the performance of digital lead generation programs.
About AIS Media
AIS Media, Inc. is an Atlanta-based award-winning strategic digital marketing agency. Founded in 1997, AIS Media has helped hundreds of clients amplify digital marketing performance including the world's top brands, companies and organizations. For more information visit http://www.aismedia.com
###