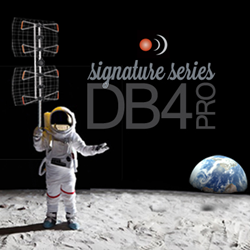 Only the best innovations are made from stainless steel – like the Gateway Arch or a Dolorean
St. Louis, MO (PRWEB) October 15, 2014
Today, Antennas Direct, a leader in TV antennas and over-the-air technology, released the DB4-PRO model, an outdoor antenna made completely from stainless steel, the same rugged material used in the aerospace industry. The DB4-PRO is the first antenna to ever take advantage of steel, adding strength and corrosion resistance while reducing maintenance.
"Only the best innovations are made from stainless steel – like the Gateway Arch or a Dolorean," says Richard Schneider, president and founder of Antennas Direct. "To quote the famous Dr. Emmett Brown, 'The way I see it, if you're going to cut the cord, why not do it with some style?'"
Testing of the new model reveals the DB4-PRO has a range of up to 65 miles and is ideal for suburban or rural areas challenged with receiving signal. The model is available exclusively at http://www.antennasdirect.com/db4pro.
DB4-PRO Product Specifications:

Range: Up to 65+ miles
Stainless steel construction
Flexible aiming characteristics, 60˚ beam-width
Peak gain: 15.8 dBi
Front to back ratio greater than 20.3 dB
37.5" x 23.25"W x 4.5"D
Lifetime warranty
SKU: DB4-PRO
About Antennas Direct
Antennas Direct is the leader in antenna technology, reinventing the antenna for the digital era. With a heritage in over-the-air antennas specifically tuned for core DTV frequencies, Antennas Direct has invested major resources into the discovery and implementation of new antenna designs for digital reception. Founded in 2003, the firm is a member of the Inc. 500|5000 Hall of Fame and Future of TV Coalition. Visit antennasdirect.com for more information.