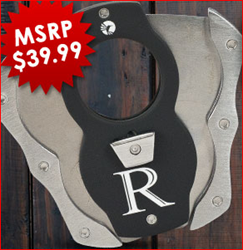 Drums, PA (PRWEB) October 15, 2014
Brickhouse J.C Newman Cigar is 90 + Rated and being sold with a free high end cutter
The Brickhouse is the first 90+ rated robolo cigar.
Best Cigar Prices is offering the Robolo sized J.C Newman 90+ Rated Cigar. The Offer is going to be active throughout the holiday.
A Robolo sized Cigar is the perfect fall and winter cigar due to it's size.  It is a quick and excellent smoke yet it's full flavored and since it's a large ring cigar allows for a full sized experience.
Best Cigar Prices, a leading online cigar retailer has announced the 90+ rated Brickhouse by J.C Newman and for a limited time offer is including a $40 cutter for free with purchase. This is on top of the 52% discount for the cigars themselves.
The Cutter is an amazing 60-Ring Cigar Cutter by Colibri . Made specifically to accommodate Robolo and other large ring cigars it provides for the perfect clean cut. It's a sleek, ergonomic design and spring-loaded open/close make clipping even the thickest cigar a breeze.
Designed to deliver maximum flavor through a super-cool burn and easy draw, Best Cigar Prices Robolos bring big, bold taste with a smooth, cool finish, and today the company is rolling out special introductory pricing on a selection of Robolo Cigars from Montecristo, Rocky Patel, Alec Bradley, E.P. Carrillo, Vega Fina, Brick House, Gran Habano, H. Upmann, and more.
The Best Cigar Prices exclusive 4 1/2 x 60 Robolo cigars have obtained incredible reviews. The latest BCP Special Offer is a chance to grab a taste the finest Robolo Cigars at a serious discount, and receive a FREE Robolo Cigar Cutter by Colibri.