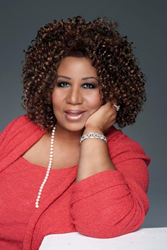 Boston, MA (PRWEB) October 15, 2014
Simmons College has announced the keynote speakers for its April 2, 2015 premier Simmons Leadership Conference. Focusing on the theme "Dare to Compete," the conference features Queen of Soul Aretha Franklin, author and columnist Arianna Huffington, and Cisco Chief Technology and Strategy Officer Padmasree Warrior. The event will be held at the Seaport World Trade Center Boston.
"At our spring conference, Former Secretary of State Hillary Rodham Clinton called on attendees to 'dare to compete' at a higher level in our careers and our lives," said Judy Benjamin, Executive Director, Simmons Leadership Conference. "We took that to heart, and have created a program with resilient women who have pioneered and persevered, never backing down from a challenge throughout their careers."
In addition to Franklin, Huffington, and Warrior, the conference features Nilofer Merchant, author and business visionary; Claire Shipman, author of "The Confidence Code: The Art and Science of Self-Assurance – What Women Need to Know;" and legendary singer Darlene Love.
The Simmons Leadership Conference is the preeminent and longest-running women's leadership forum in the country. The conference annually attracts a global audience of more than 3,000 business and professional women. Conference proceeds help further the development and advancement of future corporate, organizational, and civic leaders through Simmons graduate scholarships. It is the capstone program of SimmonsLEADS, a set of dynamic programs and events that focus on the empowerment and development of women leaders.
2015 Speakers
Aretha Franklin is the undisputed Queen of Soul. Her recording of Otis Redding's "Respect" became the anthem of the civil rights movement. She has won 18 Grammy Awards as well as the Grammy Lifetime Achievement and Living Legend Awards. Franklin was the first woman to be inducted into the Rock and Roll Hall of Fame and the youngest artist to receive a Kennedy Center Honor for lifetime contributions to American culture. She is also a recipient of the Presidential Medal of Freedom, the nation's highest civilian award.
Arianna Huffington is the chair, president, and editor-in-chief of the Huffington Post Media Group, as well as a nationally syndicated columnist, radio host, and author of 14 books. In 2005, she co-founded the Pulitzer Prize-winning The Huffington Post, a news and blog site that quickly became one of the most widely read, linked to, and frequently cited media brands on the Internet.
Padmasree Warrior is chief technology and strategy officer at Cisco. In this role, she helps direct technology and operational innovation across the company and oversees strategic partnerships, mergers and acquisitions, integration of new business models, incubation of new technologies, and cultivation of world-class technical talent. Warrior has received the World of Difference Award from the International Alliance for Women and been named to the Forbes' list of the world's 100 most powerful women.
Jeffery Tobias Halter is president of YWomen, a strategic consulting company focused on engaging men in women's leadership issues. Drawing on more than 30 years of experience in sales, marketing, executive development, talent management, and diversity strategy, he helps organizations develop comprehensive, measurable plans to tap the power of women in both the workplace and the marketplace.
Extolled by "Rolling Stone" as one of the greatest singers of all time, Darlene Love has captivated audiences around the world for more than 60 years. Love's vocals for The Righteous Brothers, Dionne Warwick, Marvin Gaye, and Elvis Presley (to name only a few) set the stage for her emergence as a star in her own right. Love was prominently featured in the Oscar-winning documentary "Twenty Feet from Stardom." She is a Rock and Roll Hall of Fame inductee.
Business visionary Nilofer Merchant has launched more than 100 products that have netted $18 billion in sales. She has worked for major companies such as Apple and Autodesk; blue-chip brands such as Symantec, HP, Yahoo, and Google have sought her guidance. A famed TED talk presenter, she is the author of "11 Rules for Creating Value in the #SocialEra," which was chosen by Fast Company as one of the best business books of 2012.
Dr. Pamela Peeke is founder and CEO of the Peeke Performance Center for Healthy Living. A thought leader in the science of integrative medicine, she is a nationally renowned expert in nutrition, metabolism, stress, and fitness. Dr. Peeke is the lifestyle expert for WebMD's 90 million members, chief medical correspondent for "Discovery Health TV", and a featured TED conference speaker. Dr. Peeke has written several bestsellers, including "The Hunger Fix."
An expert on strategic thinking, leadership, and motivation, Mel Robbins is a regular CNN and FOX News commentator and legal analyst. She is also an award-winning syndicated talk radio host and the founder of Inspire52.com, a content hub providing news and entertainment for women. In addition to hosting A&E's hit reality series "Monster In-Laws," she has made countless appearances on "Good Morning America, "The Today Show," and "Oprah."
A regular contributor to "Good Morning America," award-winning journalist Claire Shipman has been a Washington insider for most of her career. With previous stints as White House correspondent for NBC News and as a Moscow-based CNN correspondent, she has covered politics and international affairs for more than two decades. She has co-authored the New York Times bestseller "The Confidence Code: The Art and Science of Self-Assurance – What Women Need to Know."
Simmons alumna Joyce Kulhawik will serve as the conference host and moderator. Kulhawik is an integral part of New England's cultural landscape, having served as a long-time arts and entertainment anchor/critic, covering events from Boston and Broadway to Hollywood.
Four pre-conference seminars, which require separate registration, kick off the conference on Wednesday, April 1. Topics include "Leadership: Create Your Powerful Future," "Breaking the Glass Border through Global Mindset: the Next Leadership Challenge for Women," "Leading Teams that Deliver Results," and "Getting to Better Ideas: Creativity and Innovation in Practice." A pre-conference reception that evening is complimentary for registered conference attendees.
About the Simmons Leadership Conference
Held continuously for 36 years, the Simmons Leadership Conference is one of the best-known women's leadership events in the country. The conference has featured such notable speakers as Madeleine Albright, Christiane Amanpour, Former Secretary of State Hillary Rodham Clinton, Carly Fiorina, Billie Jean King, Toni Morrison, Anne Mulcahy, Queen Noor, Jehan Sadat, Oprah Winfrey, and the late Benazir Bhutto.
2015 Corporate Sponsors
EMC, Seaport World Trade Center, Cisco, HP, 2U, MFS Investments, PwC, MIT Lincoln Lab, McGladrey, Vision Quest Consulting, Watson's Candies, and Women's Toolbox.
Twitter: @SimmonsLeads, #SLC15
Facebook: Simmons Leadership Conference
LinkedIn: Simmons Leadership Conference