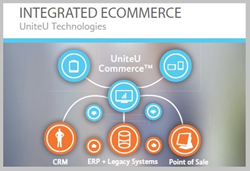 Our certification should bring a comprehensive omnichannel solution for Retail Pro® customers
New Orleans, LA (PRWEB) October 16, 2014
Leading omnichannel platform provider UniteU announced today its certification with Retail Pro International's payments solution partner Merchant Warehouse, making it turnkey for Retail Pro® retailers to create fully-integrated, responsive eCommerce websites for desktops, tablets and smartphones.
"The Merchant Warehouse certification is another step forward in building an ecosystem of value for Retail Pro® omnichannel retailers," said Soumen Das, CEO at UniteU. "With Merchant Warehouse, we're now able to offer fully-integrated card-not-present processing for their eCommerce and mCommerce business, but also card-present transactions for mobile point-of-sale transactions as well." In addition, the certifications cover gift card transactions for supported Merchant Warehouse providers, including Smart Transaction Systems (STS), Valutec and Givex.
Since completing the certification, Peutz Golf and Ski Center, both clients on the UniteU platform, have implemented Merchant Warehouse Gift Cards that can be redeemed both online as well as in-store. Several other customers have added Merchant Warehouse processing to UniteU eCommerce, mCommerce and mobile POS offerings that are in development and launching soon.
"Merchant Warehouse is looking forward to a great partnership with UniteU. Our certification should bring a comprehensive omnichannel solution for Retail Pro® customers," said Henry Helgeson, CEO at Merchant Warehouse. "We're excited for retailers to discover just how easy digital commerce integrations can be with this partnership."
UniteU was the first eCommerce platform integrated with Retail Pro® and is the most experienced eCommerce and mCommerce provider in that channel. It is also a supplier to the Internet Retailer (IR) Hot 100 and the IR Mobile 500. The omnichannel platform integrates seamlessly with Retail Pro®8 and Retail Pro®9, as well as Retail Pro Prism®.
This new certification means that retailers no longer have to manage disparate payment and gift card systems for their eCommerce, mobile commerce and mobile point-of-sale offerings. "With UniteU, Retail Pro® retailers have access to a wide range of modular commerce solutions and services that work with the Merchant Warehouse payment platform," said Michael Montrose, Vice President of Sales at UniteU.
"In addition, UniteU has the very latest in alternate payment options and features that retailers need to serve their markets, including PayPal, Amazon Payments and the new Google Wallet, as well as dynamic tax calculation and fraud detection services from other major integration partners such as CyberSource."
The new integration provides access to Merchant Warehouse services that include batch processing, real-time reporting, recurring transactions and more for credit cards, signature-and-PIN based debit cards, Electronic Benefit Transfer (EBT) and Gift/Loyalty cards. Multi-store and omnichannel features are completely integrated, and eliminate the multi-store fees charged by other processors.
More information about the certification and UniteU integration can be found at http://www.uniteu.com/integrated-ecommerce-retail-pro.aspx . UniteU will also be showcasing the new partnership at this week's 2014 Retail Pro Global Conference in New Orleans.
About UniteU Technologies (http://www.uniteu.com):
UniteU creates technology that allows retailers to provide unified commerce experiences across channels and devices. UniteU offers a wide range of modular commerce solutions and services including responsive eCommerce websites for desktops and tablets, Hybrid Responsive™ smartphone commerce sites, UMO® integrated mobile POS for transacting in-store and at events, SendReady™ email validation services and UniteU Commerce™, UniteU's powerful software-as-a-service (SaaS) commerce platform that embodies more than 15 years of omnichannel insights and high-volume experience. Superior technology and performance has resulted in an impressive client list that includes City Sports, Joes Jeans, Pharmaca, the Miami HEAT, American Solutions for Business, and all Worldwide Golf Shops properties and brands, including Edwin Watts and Roger Dunn.
About Merchant Warehouse (http://www.merchantwarehouse.com)
Merchant Warehouse is a leading provider of payment technologies and merchant services. The company's solutions enable businesses to more effectively connect and engage with their customers regardless of how, where or when they choose to shop. Merchant Warehouse's flagship technology solution, the Genius™ Customer Engagement Platform™, supports both traditional and new payment types, including mobile commerce, from a single countertop acceptance device.
Merchant Warehouse offers innovative payment solutions that help online and brick-and-mortar retailers, as well as point-of-sale (POS) developers, value-added resellers (VARs) and agents, strategically grow their business. Merchant Warehouse is one of the fastest growing payment technology companies in North America.
About Retail Pro
Retail Pro International LLC is a global leader in point of sale (POS), store operations, and back-office software applications for the specialty retail industry. For more than 25 years, the firm has economized retail business processes with uniquely flexible, extensible, and scalable retail management solutions. Retail Pro provides fully integrated front- and back-office functionality for stores, warehouses, and headquarters in a single software solution. Through its highly specialized provider network, solutions are delivered locally and supported regionally through over 90 offices worldwide. Retail Pro manages the operations of more than 52,000 retail stores in more than 90 countries using 18 languages.