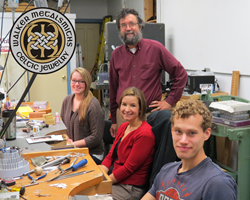 The preview is a chance for local people to get an early look at the new work.
Andover, NY (PRWEB) October 16, 2014
More than just "eye-candy" will be on display at Walker Metalsmiths Celtic Jewelry October 17 - 19. Walker's original creations are based on traditional Scottish and Irish themes. During the Studio Tour there will be an opportunity for the public to watch and learn about the ancient skills, cultural connections as well as modern technology, that the four craftsmen at Walker Metalsmiths use daily to make silver and gold rings, bracelets, earrings and necklaces.
For 27 years Stephen Walker has exhibited in the Allegany Artisans Studio Tour. A group of artists and craftsmen, that now totals forty seven exhibitors, will welcome the public to their individual studios and workshops in the towns of Alfred, Wellsville, Belmont and the surrounding areas of Allegany County. The diverse group exhibitors range from ceramic artists and painters a taxidermist and timber framer. Many of the exhibitors offer demonstrations as well as refreshments. Official hours of the Tour are 10 - 5 o'clock on Saturday and Sunday. Signs, maps, friendly directions from the locals and a website make it easy for visitors to find their way from on studio to another.
Walker's studio will have a special preview on Friday evening from 5 - 8 PM. Walker explains, "The preview is a chance for local people to get an early look at the new work. Also there will be time, when it is not so crowded, for me to show my chip-carving presentation that I gave in Ireland this summer." During the preview Stephen Walker will offer guests a chance to see and hear his presentation, that was originally given to the 7th International Insular Art Conference in Galway, Ireland, this past July. Walker's research on the molding and casting methods used to make such medieval masterpieces of Celtic art such as the Tara Brooch and Ardagh Chalice have earned him a place in the ongoing investigation of this fascinating period of artistic accomplishment. At 6:30 on Friday evening Walker will offer his presentation complete with slides and a "show and tell" of the molding experiments he did to make a copy of the chip-carved stem of the Ardagh Chalice.
At 7:30 PM Friday there will be a demonstration of the mold preparations for lost-wax casting. The plaster investment molds made on Friday evening will then be fired in a kiln and used for casting demonstrations on Saturday and Sunday. The actual casting takes only a few minutes for each mold. Interested visitors are urged to plan ahead to be present for castings on Saturday at 10:30 AM, 11:30 AM, 12:30 PM and 2:00 PM. On Sunday there will be an additional casting demonstration at 12:30 PM.
Walker Metalsmiths has been creating jewelry and metalwork at One Main Street in Andover, NY for the past 30 years. A second location for this family run business was opened by Walker's oldest children that now operates in the Rochester suburb of Fairport, NY at 140 Packets Landing. For more information call 1-800-488-6347.