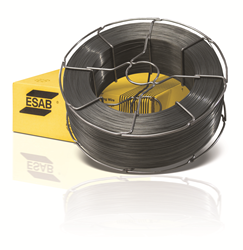 Florence, SC (PRWEB) October 15, 2014
ESAB Welding & Cutting Products introduces Coreweld C6 LF, a new low manganese emission, high efficiency metal-cored welding wire developed to meet new EPA regulations and guidelines from ACGIH (American Conference of Government Industrial Hygienists) for manganese exposure limits. Coreweld C6 LF has more than 50 percent lower manganese content and is designed to provide excellent operating qualities while significantly reducing welding manganese exposure when compared to standard metal-cored electrodes of the same classification.
ESAB's optimized formulation helps reduce exposure to manganese in the welding environment while providing good mechanical properties and low weld metal diffusible hydrogen levels. Coreweld C6 LF offers the same enhanced features of ESAB's standard Coreweld C6 with welder-friendly operating characteristics, including consistent arc stability, very low spatter, good bead shape and minimal clean-up in an easy-to-use wire. Its low diffusible hydrogen level helps avoid hydrogen-induced cold cracking in the welding of high strength steel.
By using the right combination of low manganese emissions welding wire such as Coreweld C6 LF, argon-based shielding gases and GMAW power supplies, shops can improve the safety of the working environment.
Coreweld C6 LF is well suited for both hand held and robotic or automated applications in the automotive industry, as well as for civil construction, mobile and heavy equipment, shipbuilding, rail car manufacturing, and general fabrication.
ESAB continues to set the standard in welding consumables product innovation with one of the most comprehensive lines of filler metals to suit a broad range of industry-specific welding applications. From solid wire, to covered electrodes, to fluxes and brazing products, ESAB welding consumables have a proven track record of excellence and superior quality.
ESAB Welding & Cutting Products is a recognized leader in the welding and cutting industry. From time-honored processes in welding and cutting to revolutionary technologies in mechanized cutting and automation, ESAB's welding consumables, equipment, and accessories bring solutions to customers around the globe. For more information, visit http://www.esabna.com or call 1-800-ESAB123.