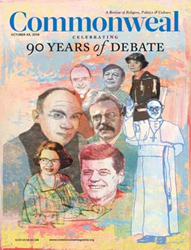 New York, NY (PRWEB) October 17, 2014
Commonweal, the prominent journal of opinion edited by lay Catholics, today published its 90th Anniversary issue, which is being offered free online at the magazine's website (http://www.commonwealmagazine.org).
Commonweal is making available not only this Anniversary issue but also its entire website at no charge through November 12, 2014, as part of its 90th Anniversary celebration.
Among the authors and topics in this expanded Anniversary issue:

In "The Commonweal Catholic," theologian and scripture scholar Luke Timothy Johnson offers his assessment of the magazine's first 90 years, and the difficult task of being a Catholic with "both an unfettered intelligence and a heart committed to the tradition."
Commonweal columnist and Boston College professor Cathleen Kaveny takes an affectionate look at the much-maligned Catholicism of the 1970s. Her article, "That '70s Church," is already one of the most-read pieces on the Commonweal website this year.
In "Authoritative and Ignored," former Williams College president Francis Oakley calls attention to the all-but-forgotten Council at Constance, convened 600 years ago in 1414. This council's great reforms, writes Oakley, remain profoundly relevant as possibilities for the church's future.
The issue also includes several of the magazine's regular columnists, a wide range of book and film reviews, a reflection by Commonweal's editors on the magazine's past and future, and contributions from six of the magazine's recent young staff members on life at Commonweal. All these articles are free on the website through November 12.
In addition to delivering the print edition of the 90th Anniversary issue to its paid subscribers, Commonweal has sent more than 30,000 additional copies of the issue to university religion and theology students, as well as to more than 600 U.S. Catholic parishes.
About Commonweal
Commonweal is a biweekly journal of opinion published by lay Catholics, offering commentary on religion, politics, culture, media, and the arts. Since its founding in 1924, Commonweal has staked a claim for Catholic principles and perspective in American life, and for laypeople's voices within the church. It is independent of any official church affiliation and is operated by the nonprofit Commonweal Foundation.
Commonweal publishes many of the leading Catholic theologians, writers, and public figures in the United States, including Peter Steinfels, Alice McDermott, Margaret O'Brien Steinfels, Paul Elie, and Sidney Callahan.
Commonweal is published 20 times a year in print as well as in enhanced tablet editions, including special issues each year dedicated to contemporary theology, interreligious dialogue, books, and fiction. It also operates a continuously updated website and blog at https://www.commonwealmagazine.org. Thanks to the generosity of donors, many of its resources are available at no charge to undergraduate and graduate students at both Catholic and secular universities.