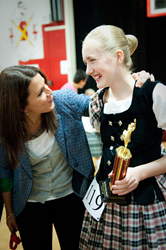 "The end of a sports season is about celebration. Where else can you spend $10 and have a young child feel inspired and empowered? A trophy or medal represents a positive experience, especially when delivered with kind words from the coach."
Issaquah, WA (PRWEB) October 16, 2014 (PRWEB) October 16, 2014
Trophies2Go, a multi-channel awards retailer, re-launched their website, providing a state-of-the-art user experience for their customers.
Through the creation of videos from live recognition events and through the Trophies2Go blog, Trophies2Go defends participation trophies, especially when given with heartfelt meaning.
Jeff Anderson, President of Trophies2Go and current Awards and Recognition Association (ARA) board member, is passionate about the positivity that awards, including participation trophies, provide society. He states, "The end of a sports season is about celebration. Where else can you spend $10 and have a young child feel inspired and empowered? A trophy or medal represents a positive experience, especially when delivered with kind words from the coach."
Since 2000, Trophies2Go has been serving the award needs of corporate and sports customers throughout the US by providing high quality products, quick production times, and superior customer service.
In 2010, Trophies2Go was named the ARA 'Website of the Year', and in 2012 Issaquah Trophy & Awards, the local brand of Trophies2Go, was awarded the ARA 'Large Retailer of the Year'.
Trophies2Go has an awards showroom and corporate office based in Issaquah, WA and a large production facility in Renton, WA, where awards are assembled, engraved, and shipped across the US. Learn more at http://www.trophies2go.com.