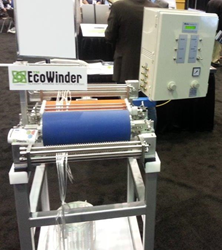 This award confirms our belief that when you set out on a mission to serve a specific customer need -- in this case, minimizing the cost of resin waste -- great things happen.– Rick Klingel, President of TSE Industries
Clearwater, FL (PRWEB) October 16, 2014
TSE Industries of Clearwater, Florida has just received the ACE Award for Composites Excellence for its TSE-EcoWinder™ resin applicator for filament winding at the Composites and Advanced Materials Expo (CAMX) in Orlando, Florida. The TSE-EcoWinder is a patented, dripless, high-speed resin applicator designed to work with TSE's polyurethane resin for filament winding. TSE's resin applicator also works with standard epoxy resins.
Current resin applicators waste at least 5% of the resin being applied by immersing the strands into a resin bath, soaking them with excessive amounts of resin, and then shooting those strands to a spinning mandrel. This process results in expensive resin being sprayed and dripped all over the production area. For companies with large filament winding operations, the cost of that wasted resin can easily exceed six figures annually.
The TSE-EcoWinder resin applicator's approach is dramatically different. Instead of soaking the strands in resin, TSE's patented applicator force-infuses resin into the strands as they pass through a set of rotating elastomer coated rollers. This process ensures better impregnation, achieving a 70 to 80% glass-to-resin ratio. The amount of resin is carefully metered by the TSE-EcoWinder™ Process Controller. This system virtually eliminates drips and waste, decreasing resin waste from at least 5% to approximately 0.25%, resulting in substantial financial savings.
"This award confirms our belief that when you set out on a mission to serve a specific customer need -- in this case, minimizing the cost of resin waste -- great things happen", said Rick Klingel, President of TSE Industries. "Having won the JEC Innovation Award for the past two years, we could not be more proud of our entire composites team."
For more information about TSE's full range of polyurethane composite resins and applicators, contact: Mark D'Souza at (727) 540-1306.
About TSE Industries: TSE Industries of Clearwater, FL, provides custom molded rubber parts and extrusion, custom plastic fabrication, Millathane® millable polyurethane rubber, Thanecure® reactive additives, contract manufacturing of specialty chemicals & PUR's, TSE-EcoWind® and TSE-EcoSpray® polyurethane composite resins, resin applicators, as well as UHMW-PE sheet.
About the ACE Award: Awards for Composites Excellence (ACE), a prestigious composites industry competition, recognizes outstanding achievement and innovation in technology, manufacturing and product development. ACMA, host to the long-standing awards program, brought the ACE Awards to CAMX Orlando in 2014, with six awards in three categories.