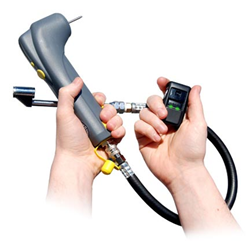 Users . . . report ROIs ranging from a day to two weeks.
(PRWEB) October 20, 2014
Silverdale, WA: Today, Squarerigger Inc. released Opti-Tread® Premium, the portable diagnostic tool for tire tread depth and vehicle safety. Opti-Tread® Premium is designed to increase tire sales and underbody services for tire dealers, repair service providers and automobile dealerships. The tool is carried in the hand by a service writer, lot attendant, or mechanic.
Opti-Tread® helps identify overlooked or unseen problems and produces an easy to understand graphical tire audit report for the customer. With this information the customer easily grasps the issues uncovered by the audit system. This facilitates a more immediate decision about tire purchases and additional services.
"We are thrilled to have completed our site testing. Users from the US to South Africa report ROIs ranging from a day to two weeks. Opti-Tread® identifies and discloses a host of potentially unsafe conditions and shows the customer exactly what the mechanic sees, but in terms the customer understands. With this specialized electronic tool, shops and dealerships do a faster and better job of illustrating to the consumer the condition of his tires. This increases tire sales and underbody work," said Ed Cooper, Squarerigger's CEO.
More information about their product may be obtained by visiting http://www.optitread.com.
Squarerigger has been providing solutions for the transportation and automobile industry since 1986. Its SQ.7™ fleet maintenance and Revolution™ tire tracking and management systems are used around the world by commercial and government fleets of all sizes.