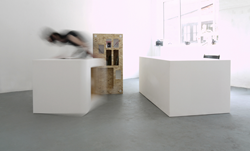 We were seduced by the smooth, perfect finish that the solid surface could achieve but also excited -in a kind of mischievous way - about revealing the hidden, rougher supporting carcass that does most of the work. Jonathan Orlek, Studio Polpo
Sheffield, United Kingdom (PRWEB UK) 16 October 2014
The furniture pieces playfully explore the properties and assumptions of these two very different sheet materials. The objects, which include a desk, a storage unit and a display case, were fabricated by WALL™ (We Are Limitless Limited), a specialist company based in the North West of England who manufactures bespoke furniture.
The project was designed to answer a space saving need for the Bloc Projects' main space to be versatile in housing a small office or meeting arrangement, a range of storage items and the temporary display of Bloc Shop items among other things, without being compromised in its primary function as a gallery space.
The resulting Bloc Objects are a series of furniture pieces that work together or separately in numerous configurations, depending on how the gallery space is being used. The three objects can be connected into each other to create seamless white solids or separated to reveal a rougher OSB inner lining. The project experimented with HI-MACS® solid surface, playing with the ability to invisibly join the material, but also revealing a supporting timber structure which is conventionally hidden by fabricators. Altering the configuration of the three objects allows different functional and aesthetic requirements to be met.
The furniture pieces complete the first phase of a larger feasibility study prepared by studio Polpo that considered ways to broaden the activities and events hosted by Bloc Projects. They allow events and administrative work to be carried out alongside exhibitions.
The project explored the need for functionality, flexibility and simplicity within gallery spaces but incorporates also an aspect of investigation and surprise.