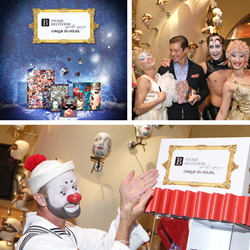 Benoit Moquin, Pierre Belvédère`s Director Marketing & Product Development, having a blast with the artists from "O" by Cirque du Soleil during last week`s official launch of Pierre Belvédère Inspired by Cirque du Soleil exclusive stationery collection.
MONTREAL, CANADA, (PRWEB) October 15, 2014
Last Thursday, Pierre Belvédère officially launched, during a special event at the Cirque du Soleil Store located inside Bellagio Las Vegas, its new and exclusive Pierre Belvédère inspired by Cirque du Soleil stationery collection, developed in collaboration with Cirque du Soleil.
"Pierre Belvédère always dreamed of one day teaming up with Cirque du Soleil to create a stationery collection that would reflect the creative spirit of the entertainment company. Cirque du Soleil's signature style and aesthetic were a perfect inspiration for Pierre Belvédère's high-quality chic and fashion-forward journals, notepads and greeting cards," said Benoit Moquin, Director, Marketing and Product Development, Pierre Belvédère.
This special association was born from a desire to bring together the spirit of Cirque du Soleil with Pierre Belvédère's fine stationery, both recognized for their innovation and creativity. Bringing together two creative brands, Pierre Belvédère inspired by Cirque du Soleil is more than just a stationery collection. It is an open invitation to awaken our imagination and create our own universe, whispering to the paper our fantasies and stories.
From this creative work has emerged a collection embodying the spirit of Cirque du Soleil. Extravagant and colourful, it is creative, stylish, and refined. This new collection is driven by a mission of quality and innovation that is recognized in both creators.
The exclusive collection uses quality materials without a single detail left to chance. When opening a journal, the spirit of Cirque du Soleil can immediately be felt. The complete stationery collection includes journals, pocket journals and notepads, available in four, six and eight designs respectively. Twelve different 3D blank greeting cards complete the collection.
The items are now available at most Cirque du Soleil boutiques in North America, including Las Vegas.
To witness the beauty and elegance of the new Pierre Belvédère inspired by Cirque du Soleil stationery collection, visit the cds.pierrebelvedere.com website for full description of each available item.
About Pierre Belvédère
Established in Montreal, Canada, in 1960, Pierre Belvédère offers its customers an exclusive selection of fine stationery products. Whether you are looking to add colour to your work or home life, you will love Pierre Belvédère's stunning collection of trendsetting journals, cutting edge agendas & eye-catching writing instruments and many other original products.
About Cirque du Soleil
Cirque du Soleil is primarily a creative content provider for a wide variety of unique projects. In addition to shows, the company, which has its International Headquarters in Montreal, extends its creative talent to other spheres of activity. While maintaining stringent standards of artistic quality and originality, Cirque du Soleil brings to innovative projects the same energy and spirit that characterize each of its shows.
Cirque du Soleil is a Quebec-based organization providing high-quality artistic entertainment. Since its beginnings in 1984, more than 100 million spectators in over 300 cities on six continents have been thrilled by Cirque du Soleil.
For further information, visuals or interview appointment, please contact:
Patrizia Gasparrini
Assistant Director, Marketing and Product Development, Pierre Belvédère
Phone: 514 286-2880 ext. 316
Email: pgasparrini(at)pierrebelvedere(dot)com