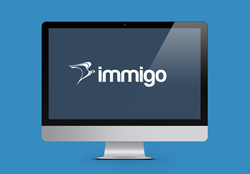 Immigo is revolutionary: global immigration case management software with real-time, detailed, country process flows and document checklists.
London, UK (PRWEB UK) 21 October 2014
Peregrine Immigration Management Ltd has been providing global immigration management consultative advice since 2011, offering software, training, project work and consultancy. Immigo is a natural addition to Peregrine's suite of services and combines extensive, up to date global immigration knowledge data with a user friendly and intuitive interface, to help the user easily keep track of multiple global immigration applications and documentation.
In 2011, Peregrine launched Immiguru, the world's first interactive, regularly updated global immigration knowledge database (video available here). They have now followed this up with Immigo, a global immigration case management system that interacts with the data held in Immiguru to create maximum efficiency for immigration and mobility professionals.
Immigo differs from most immigration management systems in that it has been designed by global experts specifically for global immigration, rather than with just one country in mind. Immigo can connect to Immiguru, which means that users can pull in process flows, document checklists and timing charts for over 800 different immigration processes into more than 80 different countries. These process flows and document lists are kept checked and updated every month by a network of over 150 immigration specialists and lawyers.
Immigo has all the usual features one would expect from an immigration management system, including secure document upload and storage, advanced reporting capabilities, and online access for clients.
The user interface is simple and intuitive, with a colour coded system to enable ease of use. Peregrine's Managing Director, Sophy King, says, "Any case management system is only as good as the data that the users put into it, so it was imperative that we designed a system that is not only robust and complex enough to meet our clients' needs, but which is also actually pleasant to use."
Peregrine's team are committed to providing the best customer service and support and actively encourage clients to offer suggestions and ideas for future developments.
Any company offering data management needs to take security seriously, and Peregrine has achieved certification to the internationally recognised ISO 27001 Information Security standard, demonstrating a firm commitment to client data security and confidentiality. To become certified, a company must implement over 100 mandated controls and undergo a formal audit that confirms that they are compliant with the requirements set forth by the standard. Certified organisations are committed to continuous improvement and are assessed annually to ensure progress is being maintained through an internal audit program.
Immigo, as the first immigration case management system to be specifically designed for global immigration, and with interactive and regularly updated process flows and document checklists for over 80 countries, seems set to disrupt the market.
Peregrine Immigration Management Ltd will be demonstrating Immigo and Immiguru from stand 280 at the CIPD Annual Conference & Exhibition at the Manchester Central Convention Complex (formerly GMEX) in Manchester on Wednesday 5 and Thursday 6 November 2014.