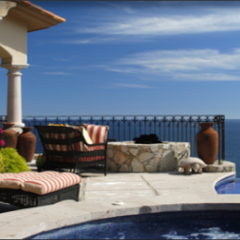 Del Mar Escapes specifically accommodates travelers who wish to vacation at the municipality Los Cabos...
Houston, TX (PRWEB) October 17, 2014
Within the past two decades, Del Mar Escapes has been one of the premier luxury resort programs in Mexico, which is one of the most tourist-friendly countries in the world. Del Mar Escapes specifically accommodates travelers who wish to vacation at the municipality Los Cabos, which—with its beautiful climate and geography—depends on tourism as its main economic activity. Although Los Cabos as a whole is also acclaimed as one of the safest places in Mexico, Del Mar Escapes, which has its resort communities located in the town of Cabo San Lucas, enhances the resort experience with a bilingual emergency response team and on-call doctor. This comes after recent weather and concerns from international travelers who may experience an emergency while traveling.
No matter which resort community visitors stay in—Villa Del Mar, Espiritu Del Mar, or Oasis Palmilla—Del Mar Escapes has a robust medical team that can respond to any emergency: 24 hours a day, 7 days a week. In addition to the on-call doctor, the medical team includes a Chief Medical Officer, registered Emergency Medical Technician, and CPR-certified staff. Defibrillators dot the entire area, and the Amerimed Hospital is located only five minutes away—at San Jose del Cabo, the other town that comprises Los Cabos. In addition to the medical services, Del Mar Escapes has security personnel positioned at each gate that leads into the premises, as well as additional guards that patrol the entire area. A central office, which houses dozens of on-site security cameras, serves as the area's security base.
With an enhanced sense of safety and security, visitors can full enjoy their time any of the 186 luxury villas that occupy a two-mile stretch of beach on the Sea of Cortez. Del Mar's Los Cabos Resorts have a long list of premium services and amenities, which include on-call butlers and chefs; private spa sessions; gourmet meals; concierges; and a world-class golf course, fitness club, and tennis club.
About Del Mar Escapes:
Operated by real estate development firm Del Mar Development, which was founded in 1995, Del Mar Escapes is a villa rental program for customers who wish to enjoy a luxurious vacation at the Mexican municipality of Los Cabos. The program consists of three luxury communities, all of which are located in Cabo San Lucas, one of the two towns that comprise Los Cabos. Orders or inquiries can be made by sending an email to info(at)delmarescapes(dot)com or calling 1-866-845-5277. The website for Del Mar Escapes is http://www.delmarescapes.com.