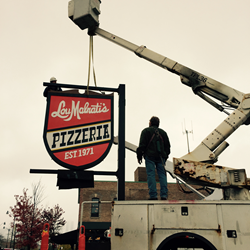 It's a beautiful transition, and I couldn't be happier to be passing the torch to Marc.
Chicago, IL (PRWEB) October 17, 2014
On Monday, October 20th, Lou Malnati's will open the doors to its 39th pizzeria in the former Ina's space located at 1235 W Randolph. Marc Malnati will serve the first meal to former owner Ina Pinkney on opening day, in what has become a unique tradition between previous owners of the property.
Pinkney's diner occupied the space from December 2000 until January of 2014. In what she calls an important passing of the baton, she symbolically served Marc Malnati her final meal. Prior to Ina's, it was a restaurant ran by the Panagakos family for 44 years. She received their last meal and served them her first, which is where the tradition started. John Panagakos currently resides in Wisconsin and will be on hand for the celebratory first meal as well.
"It's a beautiful transition, and I couldn't be happier to be passing the torch to Marc," said Pinkney.
With the closing of Ina's, the West Loop lost a popular destination for neighborhood residents. However, Pinkney was determined to sell to someone who would fit into the community and Malnati is dedicated to enduring the legacy of the building.
"We want to honor the role this building has played in the community for over 70 years, as a restaurant and gathering place for families in the heart of the West Loop," said owner, Marc Malnati.
"This place has been the heart of this ruddy, yet artsy area. Our architect, Mark Knauer, has sensitively preserved that great history, while creating a bright, exciting new family hot spot."
The restaurant will have 178 seats for dine-in, including an outdoor patio. In addition to dine-in, carryout, delivery and catering services will also be offered. For store information such as the menu, delivery zone, and contact information please visit the Lou Malnati's website or call the store at 708-358-0800.
Lou Malnati's Pizzeria is a family-owned company with 39 Chicagoland locations. The company has continued to grow by stressing consistency in quality, service, and food which is offered in a unique environment by a staff that is committed to one another, our customer, and our community.