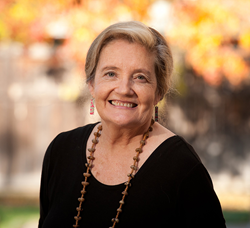 SACRAMENTO, Calif. (PRWEB) October 15, 2014
Randi Jenssen Hagerman, medical director of the UC Davis MIND Institute, Distinguished Professor of Pediatrics and Endowed Chair in Fragile X Research and Treatment, has received the prestigious C. Anderson Aldrich Award in Child Development for her outstanding contributions in the field of child development from the American Academy of Pediatrics (AAP), the professional organization for pediatricians in the United States.
The award recognizes pediatricians and non-pediatricians for their respective contributions to the field of developmental and behavioral pediatrics. It was presented at the American Academy of Pediatrics Section on Developmental and Behavioral Pediatrics national conference in San Diego on Oct. 12.
"I am greatly honored by this award, humbled after reading the list of previous recipients, and pleased that the AAP recognizes the importance of targeted treatments for individuals with neurodevelopmental disorders," Hagerman said.
Hagerman is an internationally recognized clinician/scientist, director of the clinical trials program and founder of the Fragile X Research and Treatment Center at the MIND Institute. In 2001, with her husband Paul J. Hagerman, UC Davis Distinguished Professor of Biochemistry and Molecular Medicine, she discovered fragile X-associated tremor/ataxia syndrome (FXTAS), a neurological disorder that affects older carriers of the fragile X premutation. In 1984 she co-founded the National Fragile X Foundation.
"This award is well-deserved recognition for Dr. Hagerman's lifelong commitment to children with fragile X syndrome and their families," said Leonard Abbeduto, Tsakopoulos-Vismara Endowed Chair of psychiatry and behavioral sciences and director of the MIND Institute. "She has helped thousands of people directly through her clinical care, and countless more through her groundbreaking research on the causes, consequences and treatment of FMR1-related disorders."
"She also has trained and mentored a generation of pediatricians who will carry the field forward for decades to come," Abbeduto continued. "It is certainly fitting that Dr. Hagerman is added to the list of luminaries who have received this award before her."
The C. Anderson Aldrich Award is one of the most prestigious in the field of pediatrics and includes such earlier recipients as T. Barry Brazelton, Anna Freud, Leo Kanner, Erik Erikson and Sir Michael Llewellyn Rutter. Hagerman has received numerous other awards for her research in fragile X syndrome, including the Jerrett Cole Award from the National Fragile X Foundation for unselfish dedication to work with fragile X children and adults; the Bonfils-Stanton Foundation Award for Science including Medicine; the International Association for the Scientific Study of Intellectual and Developmental Disabilities(IASSID) Distinguished Achievement Award for Scientific Literature; the 2014 Distinguished Scholarly Public Service Award from the UC Davis Academic Senate; and the 2006 Dean's Award for Outstanding Mentoring at UC Davis.
In 2004, to honor Randi and Paul Hagerman for their work in FXTAS, the National Fragile X Foundation established the Hagerman Award, which recognizes research accomplishments in the field of FXTAS. In 2008 the National Fragile X Foundation again honored Randi Hagerman with a Lifetime Achievement Award.
Hagerman has worked to establish fragile X clinical and research programs throughout the world, most recently at a fragile X hotspot in Ricuarte, Colombia. She currently is carrying out multiple targeted treatment trials in fragile X syndrome and in autism.
Hagerman has written over 300 peer-reviewed articles and written or edited numerous book chapters or books on neurodevelopmental disorders including: A 3rd Edition of Fragile X Syndrome: Diagnosis, Treatment, and Research (2002) and Treatment of Neurodevelopmental Disorders: Targeting Neurobiological Mechanisms (2014) with Robert Hendren of UC San Francisco.
C. Alderson Aldrich, a founder of the AAP, made one of his greatest contributions to the modern practice of infant feeding. His philosophy, now accepted as conventional wisdom, was essentially that an infant's appetite should be respected and not subjected to an insensitive, rigid scheduling of times and amounts of feeding. The independence that the modern American child now rightly enjoys is owed greatly to Aldrich's influence.
The Section on Developmental and Behavioral Pediatrics was founded to enable members who interested in developmental-behavioral pediatrics to promote ideas and programs that improve the well-being of infants, children, adolescents and their families.
The UC Davis MIND Institute in Sacramento, Calif., was founded in 1998 as a unique interdisciplinary research center where families, community leaders, researchers, clinicians and volunteers work together toward a common goal: researching causes, treatments and eventual preventions and cures for neurodevelopmental disorders. The institute has major research efforts in autism, fragile X syndrome, chromosome 22q11.2 deletion syndrome, attention-deficit/hyperactivity disorder (ADHD) and Down syndrome. More information about the institute and its Distinguished Lecturer Series, including previous presentations in this series, is available on the Web at http://mindinstitute.ucdavis.edu.