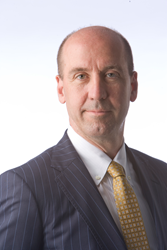 The key to future-proofing: try new things, play with new emerging technology, partner with new innovative individuals and companies.
San Antonio, TX (PRWEB) October 16, 2014
This year, the 2014 American Sportfishing Summit is being held October 15-17, at the Hotel Contessa in San Antonio, Texas and Jack Uldrich, renowned global futurist, and best-selling author will be a featured keynote speaker, along with political pundit Charlie Cook.
Uldrich will be delivering his talk, "The Big AHA: How to Future-Proof the Sports Fishing Industry." As the son of John Uldrich, one of the founders of Vexilar, a sonar detection system for fish and game forecasting, Jack Uldrich grew up in a world surrounded by sportfishing. Jack's father along with Robert Knutson, both avid hunters and fishermen, founded Vexilar Engineering Inc. in 1960. Their first product in the fishing arena was Deptherm™ - a unique and simple tool for finding depth and temperature. In 1965 they acquired an electronic temperature sensing device from Honeywell Inc. which also served as a depth finder. Although no longer in production, it did put Vexilar into the marine electronics sector relating to fishing and opened the door to sonar equipment which they first imported from Japan.
Jack Uldrich is the founder and "Chief Unlearning Officer" of The School of Unlearning—an international consultancy designed to assist organizations in succeeding tomorrow by unlearning today. He speaks around the world on a variety of topics pertaining to future trends and his specialty of "unlearning." He will address the American Sportfishing Association (ASA), the sportfishing industry's trade association, on how they can begin future-proofing the industry of marine electronics, and live into their 2014 Mission of "Today was Then,Tomorrow is Now."
As the nation's recreational fishing trade association, ASA supports the interests of hundreds of businesses, agencies and organizations and is the champion for the sportfishing industry. ASA's members include sportfishing and boating manufacturers and their representatives, allied manufacturers, independent and chain outdoor retail stores, state fish and wildlife agencies, conservation organizations, federal land and water management agencies, angler advocacy groups, outdoor media groups and journalists all of whom will be audience members for Uldrich's talk on "The Big AHA."
"The pace and scale of tomorrow's change begs the obvious question: How does a business leader prepare for a constantly changing future?" Jack Uldrich says, "The answer can be found in a simple acronym: AHA. It stands for Awareness, Humility and Action." He goes on to say, "Leaders must become aware of the extraordinary changes taking place across today's global landscape. For example, advances in nanotechnology are leading to the creation of new materials that can out-compete copper in terms of conductivity and steel in terms of strength. And soon, some of these exotic nanomaterials will even compete on price."
But Uldrich goes beyond simple trend forecasting and extends his keynote into helping his clients learn, or rather unlearn, in order to embrace all the new trends coming their way. "Once a leader is aware that the only 'constant' in today's world is change, and is humble enough to accept that unlearning will be as important as learning, in the future what is he or she to do?" In order to find out, go hear Uldrich speak, or take a look at one of his best selling books, like "Foresight 20/20" which will see its second publication with new editions in the coming weeks.
Uldrich's work has also appeared in the Wall Street Journal, BusinessWeek,Forbes, The Futurist, Future Quarterly Research, the Wall Street Reporter, Leader to Leader, Management Quarterly, and hundreds of other newspapers and publications around the country. Jack is also a recurrent guest of worldwide media, having appeared on CNN, MSNBC, and National Public Radio on numerous occasions and he is featured as a guest commentator on James Woods "Futurescape."
Parties interested in learning more about Jack Uldrich, his books, his daily blog, or his speaking availability are
encouraged to visit his website. Media wishing to know more about this event or are interested in interviewing Jack can contact Amy Tomczyk at (612)343-0660.