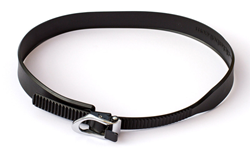 ClickerBelt is the fun fashion belt designed from snowboard technology.
Newcastle, Australia (PRWEB) October 15, 2014
The engineer-designed ClickerBelt incorporates a black binding strap and ratchet similar to those found in snowboard bindings and literally "clicks" in place, hence its name: ClickerBelt.
Snowboarding inspired both the belt's buckle technology and its material. Like a snowboard binding, it's very easy to use. Simply feed the ladder strap into the ratchet and crank the lever until the belt is the desired tightness. To release, lift the lever and pull. The belt strap is made from Polyurethane (extremely strong and flexible, waterproof and durable). The ratchet is made of aluminum and steel.
Engineer and Chief Belt Clicker Dan Linsell says he designed ClickerBelt for mass audiences, not just snowboarders. "We offer advantages over traditional, boring belts. First, there are more than 80 adjustment positions, compared with maybe eight holes in a regular belt. That offers infinitely more sizing flexibility -- there is no Small, Medium, Large or Extra Large or poking extra holes in between holes to worry about. ClickerBelt is truly one-size fits all. If the strap is too long, just trim the belt with regular scissors (we even provide guides to help)."
Although he himself is a keen snowboarder, Linsell foresees a much broader wearing public for the ClickerBelt. "Certainly snowboarders will jump on the concept right away," he expects. "But it's really fun to wear and its versatility and black/silver color scheme make it perfect with any type of clothing --- jeans, trousers, shorts, skirts, even dresses."
Concludes Linsell: "The ClickerBelt's a real accessory innovation. We're clicking the boring old belt good-bye.
ClickerBelt is currently conducting a crowdfunding campaign to commence mass production. The belt will retail for $19.95 and can be purchased online at http://www.clickerbelt.com or check out the crowdfunding campaign here: http://kck.st/1tsCoWk