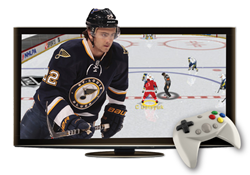 "I'm telling the tournament winner now, be ready. I'm coming to play!"
Saint Peters, MO (PRWEB) October 16, 2014
St. Louis Blues Defenseman Kevin Shattenkirk will visit Uncle Bob's Self Storage to meet fans, sign autographs and play one lucky fan in a game of Xbox hockey. The autograph session and video game tournament will take place on Sunday October 26th at the Uncle Bob's located at 3939 Mexico Road in Saint Peters, MO 63376 at from 2:30-4:15pm local time.
Xbox Hockey Tournament – Play Kevin One-on-One!
During the autograph session, 16 fans will play in a single elimination video hockey tournament on Xbox. The tournament winner will then face Kevin Shattenkirk one-on-one as the crowd watches.
Fans can register for the tournament starting at 2:30pm and the participants will be determined by random drawing. Below is the full tournament schedule:
Register to Play - 2:30pm to 2:45pm
Contestants Drawn, Tournament Start - 2:45pm
Kevin Shattenkirk vs. Tournament Winner - 4:15pm
"St. Louis has always treated the team well and I can't wait to meet some Blues fans," Shattenkirk said. "I'm telling the tournament winner now, be ready. I'm coming to play!"
All gaming equipment provided by the GameTime Entertainment Mobile Entertainment truck.
Kevin Shattenkirk Autograph Session and Other Attractions
Kevin will sign autographs from 2:30-4:15pm, and fans can bring one piece of memorabilia to be signed. Uncle Bob's will provide photos for Kevin to sign as well. There will be a limit of one autographed item per person per household. Fans can also take photos with Kevin. This is Kevin's first solo autograph session in his young career, so Blues fans will want to be part of the moment.
Aside from the tournament and signing, visitors are encouraged bring their families to enjoy other on-site activities. Uncle Bob's will have bubble hockey tables and street hockey nets to play with. Fans can even bring their own sticks and shoot on the net. Additionally, pizza from Papa John's on Jungermann Rd. will be available for guests to enjoy.
In May, Uncle Bob's Self Storage purchased seven additional storage facilities in Saint Louis. Kevin Shattenkirk's appearance will take place at one of those new facilities, and the event serves as a Grand Opening for all of the locations.
"We're excited to offer many more options for customers looking for storage solutions in St. Louis," said Tom Dahlin, area manager for the company's St. Louis locations. "We thought we should have a little celebration, and it just made sense to invite Kevin and all the Blues fans here!"
For more information on the event, visit Uncle Bob's online at unclebobs.com/kevin.
About Kevin Shattenkirk
Kevin Shatteknirk is a defenseman for the NHL's St. Louis Blues. He is in his fifth year in the league and finished 13th in the league for defensive scoring last season. In 2014, Shattenkirk represented the United States at the XXII Olympic Winter Games on the men's hockey team.
About Uncle Bob's Self Storage
Uncle Bob's Self Storage® is owned by Sovran Self Storage, Inc., (NYSE:SSS) a real estate investment trust (REIT) that acquires and manages self storage facilities. Uncle Bob's is one of the largest self storage companies in the United States with more than 500 storage locations in 25 states. Uncle Bob's currently has 15 self storage facilities in the St. Louis area.