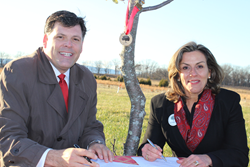 Somerset, VA (PRWEB) October 24, 2014
Around Christmas 1864, a small skirmish between Union and Confederate forces occurred at Liberty Mills (Somerset). To commemorate the 150th anniversary of that engagement, a private landowner with an interest in history has planted thirty-six trees to tie in with the Journey Through Hallowed Ground Partnership's Living Legacy Project. This project of national significance was created to commemorate the Civil War Sesquicentennial by planting or dedicating one tree for each of the 620,000 soldiers who died, as a living memorial for their individual and combined sacrifices.
Monte and Darby Gingery, owners of Somerset Plantation, have planted a mixture of Red Maples, Red Buds, Serviceberry, and Virginia Red Cedars. These trees are being dedicated on Sunday, October 26th at a 12:30 p.m. ceremony on the property. The event, which is open to the public, will provide a solemn reminder of the lives lost during one of America's most defining moments. Speakers include Journey Through Hallowed Ground Partnership President Cate Magennis Wyatt, Ancestry.com Senior Executive Brock Bierman, and other dignitaries.
"It was important to us as a family to honor the brave fallen men from both The Confederacy and The Union in this Civil War. We thought what better way to pay homage to those brave souls in Orange County than with a living tree for them. We hope these trees encourage others to become involved in planting their own memorial trees along this route," said Monte Gingery, property owner and a board member with the Journey Through Hallowed Ground Partnership.
Trees planted as part of the Living Legacy Project will eventually stretch along the Journey Through Hallowed Ground National Scenic Byway, a 180-mile swath of land that runs from Gettysburg, PA to Thomas Jefferson's Monticello in Charlottesville, VA. Each tree is then geo-tagged and placed on an interactive online map created with the support of GIS software industry leader ESRI. In addition, Ancestry.com links the Living Legacy Tree Project to their Fold 3 Memorial Pages and provides access to its websites so that participating JTHG classrooms can research soldiers' stories.
Upon completion, the Living Legacy Project will be the first 180-mile landscaped allée in the world and the only allée dedicated to honoring the most defining moment in American history. The project will create a unified color palette that reminds visitors that they are, indeed, on hallowed ground. It was upon the battlefields within this region that many of the soldiers who fought, died during the American Civil War, one of our country's most defining moments. A signature palette of seasonal trees and plantings, including redbuds, red oaks, red maple, and red cedar have been selected to represent the courage and valor of the individuals being honored with this project. The native selection is appropriate to the diverse landscapes along this historic corridor, and remains sensitive to the local ecology, scenic views, and development patterns.
The Journey Through Hallowed Ground Partnership is actively engaged in raising the necessary funds to complete this $65 million initiative. Individuals, businesses, schools, and community groups from around the world can contribute to this project. The JTHG Partnership is seeking $100 contributions to support and plant each tree. Donors may select a soldier to honor, as the trees will be geo-tagged to allow Smart Phone users to learn the story of the soldier, providing a strong educational component to engage interest in the region's historical heritage and literally bring the tree to life. Over 350 organizational partners of the Journey Through Hallowed Ground Partnership are already engaged with the Living Legacy Project. For more information on the Living Legacy Project, visit http://www.hallowedground.org.