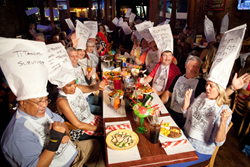 From full service to quick casual to specialty foods, the new lineup brings both popular and one-of-a-kind culinary experiences to the Wharf.
San Francisco (PRWEB) October 17, 2014
Anchorage Square, a shopping and dining destination located in the heart of Fisherman's Wharf, recently welcomed Dick's Last Resort to the square, the first Northern California location for the restaurateur. In addition to Dick's, Anchorage Square also welcomed Pepper Palace and 3 Potato 4 to its culinary lineup.
Dick's Last Resort, a 30-year-old restaurant concept with 17 locations in key visitor cities, including Las Vegas, Nashville, Boston and San Diego, is known for its outrageous and energetic servers who dish out "tasty comfort food, cold booze and a heaping helping of sarcasm along with its famous and often irrelevant paper hats and bibs," says Ralph W. McCracken, president and COO of the highly entertaining restaurant group. "What Dick's Last Resort really provides is a fun, carefree atmosphere where everyone can eat, drink, laugh, and make some great memories with family & friends!"
The menu ranges from barbecue pork ribs, chicken, fried shrimp and "Katfish" to seafood sandwiches, crab legs, steaks and burgers. The nationally known dining spot is popular with tourists, offering a full bar with a creative cocktail menu, patio and indoor dining, flat-screen TVs and live music on the weekends with no cover charge. Not for the faint of heart, Dick's Last Resort is renowned for its over-the-top birthdays, bachelor and bachelorette parties, promotions, divorces, reunions and anniversaries – in short, any occasion or excuse to gather friends and family. The restaurant is open seven days a week from 11 am to 11 pm, Sunday through Thursday and from 11 am to Midnight, Friday and Saturday. Dick's offers an hour parking validation in the Anchorage Square garage with the purchase of an entrée and reservations may be made by calling 415-766-0900.
From full service to quick casual to specialty foods, the new lineup brings both popular and one-of-a-kind culinary experiences to the Wharf, says Tony Smith, general manager for Anchorage Square. "With these new additions, Anchorage Square continues to address our visitors' desire for the latest trends and most unique offerings in dining and entertainment experiences," Smith continues. "We are pleased to offer these one-of-a-kind culinary destinations for our guests."
Pepper Palace
Known as the one-stop-shop for everything spicy, Pepper Palace is America's largest spicy-themed retailer, with 30 locations nationwide offering more than 100 items from hot sauces, salsas, barbecue sauces and hot wing sauces to seasonings, soup, bread and dip mixes, jellies, marinades and even candies to both sample and purchase.
"Everything we sample is 100 percent natural and contains no preservatives," says Evan Frederickson, the California owner of the shop that offers more than 100 different sauces. "Our staff is very knowledgeable about the products and is willing to sample whatever may interest our customers. Multiple times every day someone wants to try Flashbang (the hottest hot sauce in the world) and their reactions can be quite comical."
In business since 1989, Anchorage Square marks the company's first West Coast destination. The purveyor of all things spicy is open daily 10 am to 9 pm and offers parking validation in the square's garage.
For more information, visit http://www.pepperpalace.com or call 571-239-0982.
3 Potato 4
3 Potato 4 is a locally owned, organic baked potato and fries quick serve noshery with a creative approach to organic sustainability. 3 Potato 4 supplies a potato super food that re-introduces the potato for its merits as a gluten-free, anti-oxidant and mega-doser of vitamin-A while providing more potassium than a banana and 37 percent of your daily vitamin-C - all this, accompanied by assorted dipping sauces and a fun, 1950's sci-fi atmosphere. And it's not just the potatoes that are eco-friendly. Even the spoons, cups and lids for their soups and chili are made from potato starch and completely biodegradable.
With its second location now open at Anchorage Square, San Franciscans and visitors alike are finding the award-winning, baked-not-fried wedges 99 percent fat free and among the best in the city, according to online voters at Thrillist.com. In addition to baked potatoes with toppings and crinkle-cuts and wedges with a choice of 50 dipping sauces, 3 Potato 4 serves organic, gluten-free, vegan/vegetarian soups and chilies, well as desserts, soft serve, organic coffee and cold drinks.
"This is the healthiest food you are going to find at Fisherman's Wharf," says Founder, President and CEO Guenevere Blanchard. "3 Potato 4 is the home of the original San Francisco potato-fries, and we offer a small-batch rotating menu so our food is fresh and inventive every day."
The dining spot is open daily from 10:30 am to 7 pm. On Saturdays throughout October, the hours are extended to 8:30 pm, with the establishment open from 9 am to 9 pm for Fleet Week, October 9-13, and from 9 am to 8:30 pm for Pink Day, October 18. 3 Potato 4 provides validated parking with a purchase of $10 or more.
For more information, visit http://www.3potato4potato.com or call 978-968-4431.
★
About Anchorage Square
Anchorage Square is one of the top visitor destinations on San Francisco's Fisherman's Wharf featuring more than 30 sightseeing services, gift shops, eateries and entertainment establishments, as well as a Courtyard by Marriott and a 630 stall parking garage. Anchorage Square is open daily from 10 am to 9 pm and offers extended hours for dining and entertainment. For more information, visit http://www.anchoragesquare.com or call 415-775-6000.
-30-