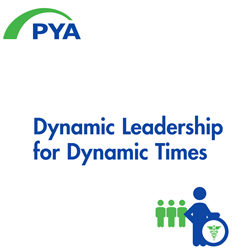 Adaptive leaders create a shared sense of purpose with the members of their team and manage through influence and inspiration rather than hierarchical command and control
Knoxville, TN (PRWEB) October 16, 2014
The challenge has been issued, and the healthcare industry is engaged: deliver effective and efficient care that demonstrably improves population health. Now it's up to competent leaders to respond to today's dynamic healthcare environment with dynamic leadership skills, according to a new white paper.
PYA's white paper, "Dynamic Leadership for Dynamic Times," urges healthcare leaders to get in step with leadership education, learning from our nation's top military leaders about the skills needed for adaptive leadership and how to prepare their organizations to also adapt in order to thrive and survive. It describes an adaptive leader as one who "sees opportunity when others are stymied by obstacles, takes action when others are stalled, and takes risks based on the best intelligence available even though perfection is not certain."
The paper draws parallels between the modern battlefield and the healthcare market, and how lessons learned from our armed forces can also be applied to the healthcare front. The piece highlights four military precepts applicable to the healthcare industry and the underlying importance of absolute reliance on teamwork to accomplish the mission. "Adaptive leaders create a shared sense of purpose with the members of their team and manage through influence and inspiration rather than hierarchical command and control," according to the document.
PYA assists health systems in meeting challenges by providing education for governing bodies, leadership teams, and medical staffs; facilitating dialogue in the board room; performing governance effectiveness reviews; and identifying, developing, and implementing strategic initiatives.
---
About PYA
For over three decades, Pershing Yoakley & Associates (PYA) has provided timely insight and strategic support, helping clients thrive in the midst of rapid change. PYA is ranked by Modern Healthcare as the nation's twelfth largest privately held healthcare management consulting firm. For more information, visit http://www.pyapc.com/.