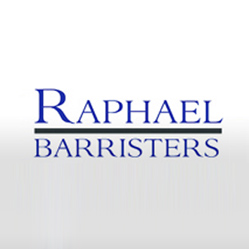 Raphael Barristers, yet again, was the only team that showcased compassion, leadership, and teamwork.
Toronto, ON (PRWEB) October 16, 2014
The Centre for Addiction and Mental Health is Canada's largest mental health and addiction teaching hospital, as well as one of the world's leading research centres in the area of addiction and mental health. Each year, CAMH provides exceptional care for more than 28,000 patients and responds to 500,000 outpatient visits. The CAMH is more than a hospital, it's a catalyst for change.
Having a basketball tournament was ideal to showcase compassion, leadership, and most importantly, teamwork. Many law firms and insurance companies come to compete, but there was only one team that stood out. Raphael Barristers, yet again, was the only team that showcased compassion, leadership, and teamwork. In fact, they have been showcasing the power of teamwork for three years in a row. Their chemistry was one of the reasons why charity events like Lawyers Can't Jump do so well within the community.
Raphael Barristers was founded in 1963 in Windsor, Ontario. In 1987, leading Toronto litigation lawyers Bert Raphael, Q.C. and Stan Raphael, Q.C. merged their firm with the Windsor office. The firm became Raphael Partners LLP with offices in Toronto, Windsor, Chatham and Leamington. Today, the firm calls itself Raphael Barristers and is regarded as one of Ontario's leading personal injury law firms.
It's easy to assume that a firm with high achievements will have great interaction with one another. Well, that is true when you are talking about Raphael Barristers. It's an axiom that Raphael Barristers sees themselves as a family rather than business associates. Families look out for each other, help one another, and push people, as well as themselves, beyond their comfort zone. The firm was able to give to themselves what they would love to give to the community, hope, love, and inspiration. The game of basketball was just a physical metaphor for CAMH and their purpose for better mental health, and control over addictions. Many people fall victim to addiction in life and have no one or nowhere to turn to. A ghostly mask of darkness veils over them, garroting their very spirit. But, out of the black shadows comes a light that will lift ones spirits back into the gentle zephyrs of life again. That light was a pair of hands sent from a source of benevolence to give people faith to persist.
Winning wasn't the main focus of the tournament. The main focus was shining a light on CAMH. Raphael Barristers, for three years, has managed to highlight each and every cause because, like a family, everybody and every dilemma matters. That gave them the inspiration each and every year to do their best. That was why they were the best team this year, and the previous years. Winning was just the icing on the cake for Raphael Barristers. Bring more people to help CAMH was the true goal.
To find out more about Raphael Barristers, seek out the website at: http://www.raphaelbarristers.com, or give them a call today. The number is 416-594-0868.