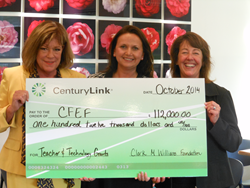 Apopka, FL (PRWEB) October 16, 2014
CenturyLink, Inc. in conjunction with the Consortium of Florida Education Foundations (CFEF), is connecting teachers with technology for the classroom. The CenturyLink Clarke M. Williams Foundation's Teachers and Technology grant program will open its application process Oct. 1 for teachers in CenturyLink's local service areas who want to innovatively implement technology in their classrooms to increase student achievement.
Interested teachers and school leaders can learn more here and connect with their local education foundation to apply through them here. The deadline for applications is Jan. 2, 2015.
In previous years, these winning teachers' schools each received a grant to be used by the teachers to purchase technology to benefit students in the classroom:

South Walton High School in Walton County was awarded $5,000 to purchase Dell Latitude 10 tablets to encourage reading and improve reading skills. Teacher Nick Borthwick submitted the project.
Wekiva High School in Orange County was awarded $5,000 to purchase a smart board for use in teaching orchestra class. Music class has been known to boost math scores. Teacher Andrea Tobin submitted the project.
Woodlawn Elementary in Highlands County was awarded $4,370 for a project called "Past, Present & Future." Teachers Jerry Wright and Jon Spencer will use iPads to help students explore the world around them through engaging non-fiction research that is tailored to their individual reading level.
CenturyLink service is neither required nor considered in the review of applications.
The Foundation will award more than $1.4 million in grants to support technology in the classroom through its 2014-2015 Teachers and Technology program, offered throughout the company's service areas in the U.S.
Grant winners will be announced between April 1 - May 15, 2015.
About the CenturyLink Foundation
CenturyLink's vision is to improve lives, strengthen businesses and connect communities by delivering advanced technologies and solutions with honest and personal service. CenturyLink extends this vision through the CenturyLink Clarke M. Williams Foundation, a 501(c)(3) organization dedicated to contributing to endeavors that improve the well-being and overall quality of life for people throughout CenturyLink's communities. Named after CenturyLink's founder Clarke M. Williams, the Foundation is endowed by CenturyLink to support community initiatives that encourage our employees to use their time, talents and resources to strengthen the communities in which they live and work.