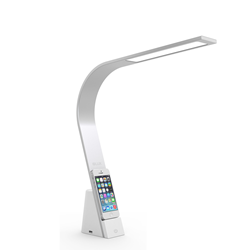 Santa Barbara, CA (PRWEB) October 28, 2014
Mighty Bright, designer and manufacturer of innovative LED lighting products, will unveil the Brooklyn LED Task Light designed for corporate workplaces, hospitality environments, and residential interiors at NeoCon East, October 29-30, 2014 at The Baltimore Convention Center in Baltimore, MD. The Brooklyn can also be seen at http://www.lux-led-lights.com.
The new LUX Brooklyn LED Task Light is a streamlined and modern, yet utilitarian, task light. Casting 450 lumens of bright white, energy-efficient light, the Brooklyn utilizes revolutionary LED panel technology for an even, soft light output – and never requires a replacement bulb. The touch-activated Brooklyn has an adjustable dimmer for maximum illumination flexibility. The Brooklyn is available in two models – Brooklyn USB features two USB ports in its space-saving base, while Brooklyn AC features two internationally compatible outlets and two USB ports in its base. Both Brooklyn models incorporate a durable device holder in their bases for supporting phones, tablets, and eReaders.
LUX Brooklyn LED Task Light features:

Modern LED task light with thin profile
Cutting edge LED light panel technology
Fully adjustable light output up to 450 lumens
Touch activated
USB Model: 2 integrated USB ports
AC Model: 2 integrated universal outlets and 2 USB ports
Crafted of a single piece of aluminum
Weighted base
Flicker-free, high-quality LEDs
Color temperature: 4000K (USB) / 3000K (AC)
Input Voltage: 100-240
Material: aluminum and plastic
Colors: silver
50,000 hours of continuous illumination
Power consumption: 8W
Efficiency: 50 lm/W
Color Rendering Index: 85
LUX LED Lights by Mighty Bright is the contemporary solution for task lighting. Utility and design are paramount for LUX LED Lights — fit a LUX Light into any space for an exquisite focal point or to brighten a dark corner. High performing LUX LED task lights reduce energy usage while enhancing spaces with exceptional style. Streamlined and sophisticated, LUX LED Lights are functional, eco-friendly and embody a simple aesthetic elegance, compromising neither form nor function.
Visit Mighty Bright at NeoCon East 2014
Visit booth #2539 to see the complete line of LUX LED Lights by Mighty Bright.
About Mighty Bright
Behind every LUX LED Light you'll find Mighty Bright, designers and manufacturers of high quality LED lights. Since 1985, Mighty Bright has blended ease of use and affordability with impressive functionality, durability and portability. Our LED lights make reading, writing, working, and day-to-day life easier.
We have taken our years of LED expertise and applied them to the LUX line to produce the most fashionable and energy-efficient LED lights for home and office on the market. And since LEDs provide thousands of hours of light, each purchase of a LUX Light is earth friendly. Contact Mighty Bright: 800.922.3233 or visit http://www.lux-led-lights.com.