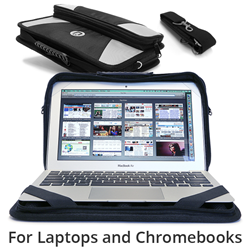 "Sunrise Hitek designed the Rugged Laptop Case with many sharp features. This cases features a unique asset tracking tag pouch to make tracking effortless by a school or IT department."
Chicago, IL (PRWEB) October 21, 2014
The Rugged Laptop Case is available in three sizes, for 11", 13", and 15" computers. It's compatible with virtually all MacBook, Chromebook, and Windows laptop computers on the market. On bulk orders, Sunrise can also custom manufacture cases for the customer's exact computer model. Like all of Sunrise's products, the Rugged Laptop Case can be customized with school's logo artwork, either by printing or embroidering, depending on quantity.
Sunrise Hitek designed the Rugged Laptop Case with many sharp features. This cases features a unique asset tracking tag pouch to make tracking effortless by a school or IT department. Made of ballistic nylon, the case is super tough on the outside, and its unique Cooling Channel technology both protects the laptop and keeps it running cool. A rigid frame system suspends the computer in the middle of the case, cushioning it from shocks and impacts. A reinforced carrying handle and shoulder strap make it convenient to carry.
The Rugged Laptop Case can be purchased on the company's website at http://www.uuberstore.com/rugged-laptop-case. Schools and businesses with bulk orders should contact the company for discount pricing.
About Sunrise Hitek
Sunrise Hitek's üuber store, formerly known as iGear, is a leading maker of protective gear for Apple's iPad. The brand changed to üuber when the company starting developing cases for other devices, such as the MacBook, Chromebook, and Samsung devices. Sunrise Hitek Group, LLC, owner of the üuber brand, also operates Sunrise Digital, a leading digital printing company based in Chicago. As a G7 Qualified Master Printer, Sunrise is uniquely qualified among protective gear makers to offer a wide array of customization options, ensuring the most consistent and accurate color reproduction. Sunrise is an Inc. 5000 company established in 1988 and employs the most advanced equipment and technology, such as G7-certified HP Indigo and UV flatbed presses, and digital die-cutting, to create best-in-class products. A privately-owned enterprise, the company is based in Chicago and sells products worldwide.