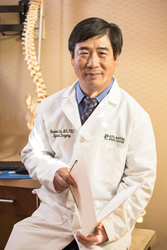 We see our patients happy and excited about their progress and that is always a wonderful thing to experience.
West Orange, New Jersey (PRWEB) October 16, 2014
Atlantic Spine Center, an innovative and encompassing spine care group in New Jersey, recently elaborated on their newest addition of physical therapy services directly available for their patients. Their custom and individualized care mixed with a very welcoming staff and warm environment sets the pace for a friendly and manageable itinerary for the patient. The team within ASC's physical therapy and rehab group is fully trained in spine conditions and effective surgical recovery regimens that follow the strict guidelines set by Dr. Liu and his team of spine surgeons.
The goal for Atlantic Spine Center's physical therapy patients is to help regain motion within the dynamic structure of the spine and its supporting muscles, ligaments and other tissues that aid in the normal function of the neck or back. Spine surgery and other spine conditions can compromise mobility and providing the best chance of restoration is the key. At Atlantic Spine Center the focus is always to help people overcoming a debilitating back or neck diagnosis. Physical therapy is often a powerful step in seeing a patient through to the best possible recovery. "Working directly with our established physical therapy team on a daily basis has been a great experience in open communication and shared expected outcomes for our patients." Says Dr. Kiaxuan Liu of Atlantic Spine Center.
During each physical therapy or rehabilitation session of an ASC patient, the physical therapist provides a visual and physical summary for the doctor to keep him up-to-date on the progress. As the patient's therapy progresses over time, they not only show significant signs of improvement but also undergo training in valuable skills on how to continue to maintain restorative fitness and help prevent injuries or setbacks.
"We are very passionate about patient care and adding physical therapy to our list of services was the natural thing to do. We see our patients happy and excited about their progress and that is always a wonderful thing to experience." Dr. Liu concluded.