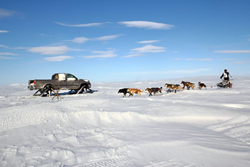 (PRWEB) October 21, 2014
As many drivers in frigid climates know, American Track Truck's DOMINATOR Tracks can turn almost any 4X4 passenger vehicle into a reliable and safe off-road winter vehicle. But this year American Track Truck is also helping participants in the Iditarod, Alaska's iconic 1,100 mile sled dog race starting in Anchorage and ending in Nome.
American Track Truck's DOMINATOR Tracks are allowing volunteer and training vehicles to get to markers and checkpoints along the Iditarod trail where only snowmobiles could get before. They are also helping mushers with dog training and dog sleds in the winter. Four-time Iditarod winner Jeff King recently released a thrilling video of him training with his dogs by allowing them to pull his jeep on a set of tracks.
American Track Truck spokesman Jason St. Amour says his company is proud to bring comfortable, reliable, safe, off-road capabilities to various vehicles to help people get the most out of Alaskan winters. "This is our passion. American Track Truck is glad to help make winter activities more accessible for everyone," says St. Amour. Using a vehicle outfitted with DOMINATOR Tracks also adds an extra layer of safety. When there is an emergency, a truck with tracks offers a heated cab and more room for gear than a snowmobile.
In addition, back in 2012, DOMINATOR Tracks made it possible for film crews to greet winner Dallas Seavey – the youngest person to ever win the Iditarod - at the finish line. Tracks allowed the crew to drive along the snowy Iditarod Trail, which has been called the "Toughest Race on Earth." Photographs from the event show the crew's Toyota track truck on top of Cape Nome.
The same film crew used DOMINATOR tracks to transport parts of the set used in the filming of Discovery Channel's "Bering Sea Gold – Under the Ice." The tracks made it possible to drive the Toyota Tundra pick-up for miles across the frozen Bering Sea.
DOMINATOR Track systems offered by American Track Truck continue gaining more recognition around the country and around the world. Earlier this year, professional Minnesota ice fisherman and outdoor guide Brian "Bro" Brosdahl also experienced these truck tracks first hand and now recommends them to others.
About American Track Truck:
American Track Truck is North America's major supplier of rubber track conversion systems for off-road transportation in snow, mud, swamps and other terrain. The company's DOMINATOR Track Systems allow customers to easily convert a 4x4 vehicle into a track truck for off-road transportation to access places where tires cannot go, in deep snow and other soft-terrain environments. These track kits may be installed in less than an hour with typically no other modifications necessary. To find out more about American Track Truck, visit the website at AmericanTrackTruck.com.