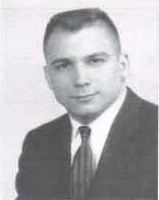 Beachwood, OH (PRWEB) October 17, 2014
Jack Moskal, one of the founders of the company today known as MGO, will be inducted into the Lambda Kappa-Beta chapter of the Beta Theta Pi fraternity's Alumni Hall of Fame for his accomplishments as a student athlete at Case Western Reserve University (WRU). Moskal graduated from WRU in 1958, and had a storied career on the university's Redcats football team.
Moskal went on to found J.D Moskal & Assoc. (which soon became Moskal Jaras & Assoc.) and Capital Planning Corp., a financial firm that focused on designing and managing investment portfolios for both retirement plans and individual and corporate investors. The firm put an emphasis on strategy and planning, and was one of the first to use the term "financial planner." In 1990, Moskal Jaras & Assoc. merged with Eugene M. Klein and Co. to form the company that ultimately became MGO.
Prior to graduation, Moskal was an accomplished athlete at WRU. One of the best athletes in the Lambda Kappa-Beta chapter's history, Moskal led the Redcats to their first President's Athletic Conference championship in 1955. In 1956, he was named team MVP. In addition, he reportedly had a reputation among his fraternity brothers for his dedication to the chapter, the Cleveland Alumni Association and the fraternity at large.
On October 18th at 1PM, Moskal will be honored in the Western Reserve Commons Area of the Field House on WCRU campus. A plaque dedication and induction ceremony will honor Moskal's passion and commitment to athletics. Following the ceremony, all Beta members and their guests can attend the upstairs club area of the field house to watch the Homecoming game and enjoy food and refreshments.
For more on the Lambda Kappa-Beta chapter of Beta Theta Phi, visit http://cwrubeta.com/
For information on MGO's suite of services, including retirement planning and investment services, visit http://www.mgo-inc.com/
About MGO, Inc:
Established in 1939, MGO provides "Total Solution" retirement plan consulting and administration services. We cover all aspects of your retirement plan, from creative plan design solutions to turnkey administration to employee education programs. In addition, MGO offers personal wealth management services to individual investors, including MGO Signature, our unique process designed to help high net worth individuals define and achieve their financial goals. For the last 75 years our clients have looked to MGO to help them prepare for a comfortable retirement. For more information please visit: http://www.mgo-inc.com.