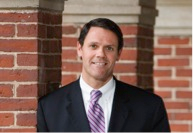 It is an honor to become the next head of The Waterford School. This is a world-class opportunity at a world-class school.
Sandy, Utah (PRWEB) October 24, 2014
The Board of Trustees of the Waterford School in Sandy, Utah announces the appointment of Andrew Menke as its new Head of School. Menke will succeed Nancy Heuston, Waterford's founding head. Mr. Menke will assume full responsibility as the Head of the Waterford School on July 1, 2016. The Waterford School is Utah's premier private, college preparatory school for students in preschool through high school.
"The Board and the Search Committee were in unanimous agreement that Andrew Menke is the ideal leader to carry on the extraordinary vision and tradition of excellence established by our founding head, Nancy Heuston, who will retire after thirty-three years of exemplary service," said Board Chairman, Ron Mika. "Andrew Menke's appointment is the result of an extensive six-month search process. As a board, we were impressed by Andrew's warmth and accessibility, his collaborative style of leadership, and his exuberance. Andrew is fully committed to the liberal arts and has the essential qualities necessary to preserve the mission, values and priorities of the Waterford School. One of the most important qualifications for our next Head of School is that he will relish the opportunity to join the Waterford School community. We are thrilled that Andrew meets every one of these qualifications."
Andrew Menke has spent his entire career in education. He has served three different independent schools for the last 26 years as a faculty member, coach, advisor, admissions and development director and, for the past 16 years, as a School Head. He first served as Head of the Colorado Rocky Mountain School; for the past nine years, Andrew has led New Hampton School in New Hampton, NH.
As Head of New Hampton School, Andrew facilitated a comprehensive strategic planning process as well as spearheading the development and construction of a state-of-the-art Math and Science Center, the restoration of the school's Humanities Building, a new residential house for students and faculty, and a lighted turf field. He guided the School through the International Baccalaureate Diploma School authorization and the introduction of a 1:1 iPad program, which earned the School an Apple Distinguished School Award in 2013 and 2014. Under Andrew's leadership, New Hampton has benefited from the most successful capital campaign in the institution's history, raising over $41 million to support the School's continued evolution.
Menke holds a BA from Towson University and MA from Dartmouth College.
The Waterford School is Utah's premier private, liberal arts college-preparatory school for students in preschool through grade 12. The school offers a comprehensive liberal arts curriculum including visual art, photography, music, theater, and dance. For more information, visit http://www.waterfordschool.org