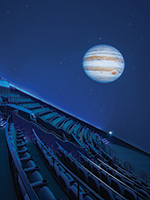 Richmond, VA (PRWEB) October 16, 2014
The Science Museum of Virginia welcomes international leaders of the giant screen industry for an exclusive summit in the recently upgraded Dome theater.
On October 22, over 50 members of the Giant Screen Cinema Association (GSCA) will gather in The Dome to analyze the Museum's world-class digital projection system. Filmmakers, producers and distributors will review the newly installed Evans & Sutherland system, which boasts five Christie 4K projectors with auto-alignment and auto-blending technology.
"There is literally no other space like our Dome on the planet. We believe that it has the world's most advanced digital projection system that, when coupled with the new NanoSeam™ surface, makes for an incredible visual experience," says Richard Conti, Chief Wonder Officer, Science Museum of Virginia.
The Museum's five-story dome theater will demonstrate the technological aspects of the system, show a side-by-side comparison of digital versus 15/70 film and evaluate the system's active 3D stereo capabilities. GSCA members will enjoy viewing real-time content and a special presentation of the Museum's Cosmic Expeditions, new astronomy programming supported by the Digistar 5 system.
"The Dome at the Science Museum of Virginia is the first digital fulldome installation on a tilted, 180°, giant dome with brightness and resolution that reportedly rivals that of 15/70 film," explains Tammy Seldon, Executive Director, Giant Screen Cinema Association. "We are eager to assess the system and its capabilities as we look to the future of the giant screen industry."
Setting a new bar for giant screen theaters across the globe, The Dome is ushering in a new age of technology and immersive experiences. Giant Screen Cinema Association members will utilize The Dome for technical sessions, demonstrations and discussions surrounding imminent business practices of the industry.
The core purpose of the Giant Screen Cinema Association (GSCA®) is to advance the business of producing and presenting educational giant screen and immersive cinema experiences globally. GSCA's membership includes more than 260 organizations in nearly 30 countries. Member organizations include giant screen filmmakers, distributors, theaters, suppliers, manufacturers and students from around the world.