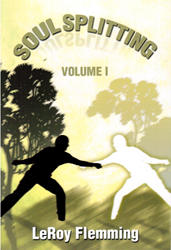 Orlando, FL (PRWEB) October 21, 2014
LeRoy Flemming recently published the first volume of his "Soulsplitting" series, a project fueled by spiritual expression through creativity.
"Life often takes you places that you'd never thought you'd go; in my case, it was the death of my mother," says Flemming, who also recently released volume one of "Soulsplitting," which explores the sense of interconnectedness among people.
"The last time I saw her was Dec. 25, 1999, when I told her I was working on my dreams. On that day, she said something that I've been living by ever since: 'You may give out, son, but never give up!' "
Struck with grief, confusion and pain in the wake of her death, Flemming began practicing spiritual expression through creativity by writing his "Timelightenment" series. "Soulsplitting" is a continuation of his search for the divine.
"It wasn't something I'd planned on," he says. "I just knew that, once I started writing, I had to keep going. At some point in the process, I developed a sense of calm. I didn't feel whole yet, but I realized that I was feeling better than before."
In his process of spiritual expression through creativity, Flemming also gained perspective on the bigger picture of individual experience, and a sense of clarity, he says.
Volume I of the "Soulsplitting" series contemplates what it means to live life to the fullest, including embracing the moments in which we find fun, joy, love, peace and a sense of the divine. If "Timelightenment" explored the transformation that takes place in an enlightened soul, "Soulsplitting" details the daily experiences of that soul, including quirks and challenges, and how to love it all.
"This book of poems will touch anyone who reads it," writes Amazon reviewer Vonda Caprice Bell, who gives the first volume of "Soulsplitting" five stars. "The poems make you think and look at your life and help you to see that there are others going through some of the same things that you have been through. I highly recommend this book…."
About LeRoy Flemming
Leroy Flemming is a graduate of Alabama State University, a Historically Black College and University (HBCU) in Montgomery, Ala. He always wanted to show people that with spiritual guidance you can make things happen. Through his determination and inspiration from his Creator, he completed his five-part series of novels, "Timelightenment," (http://www.timelightenment.biz/), in hopes of demonstrating to the children of this world that they can dream big, and accomplish those dreams. Though inspired by many people, his biggest influence comes from his mother, who said shortly before she passed away, "Son, I may give out, but I never give up!" Flemming recently completed volume one of his new series, "Soulsplitting."