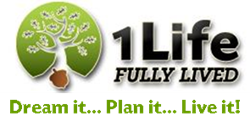 "Our mission is to educate and mentor others to become self-sufficient and financially independent by helping them find direction and purpose for their lives."
RENO, Nev. (PRWEB) October 16, 2014
In a mere two days spent at the fourth annual 1 Life Fully Lived Conference, attendees' lives will be changed. Tools garnered from the diverse array of speakers brought in by Tim Rhode's nonprofit entity will equip all who take part with new inspiration, knowledge and vigor to create for themselves a reality that many perhaps only dream of.
This year's conference, entitled "Creating Flow in Your Mind, Body & Soul", will take place on November 8 and 9, 2014 in the Joe Crowley Student Union on the University of Nevada, Reno campus. Keynote speakers from across the country will be featured, each conducting breakout sessions focusing on the many aspects needed to create a successful and fulfilling life - including physical, mental, professional, personal and financial.
Formed around the motto "Dream it! Plan it! Live it!", 1 Life Fully Lived is a registered 501 (c)(3) nonprofit organization created by Portola-based philanthropist Tim Rhode with a goal of providing education and support to help people live the life they choose with purpose and intention while developing and maintaining financial independence.
"Our mission is to educate and mentor others to become self-sufficient and financially independent by helping them find direction and purpose for their lives," exudes Rhode. "Whether you are just graduating from high school, in college, starting a family, are a single parent, or getting ready for retirement, this conference will help you design and live your best potential life. Our message is universal: 'If it is to be, it's up to me.'"
Rhode went on to say, "One of the things people appreciate at this conference is the incredibly low price for two days. It's been dubbed 'A $1000 value event for $75 bucks.' The way we do that is we have all volunteers simply giving back by presenting here. Another thing the attendees love about this event is there are no up-sale products offered."
Participants in this interactive conference will learn powerful tools to create an action plan, plus increase their energy, motivation and satisfaction. The wide range of workshops include "Understanding How Money Works" by Jon Sanchez, "Creating YOUR Vision Board" by Linda McLean, "How to Deliver a Killer Presentation" by Mark Yegge, "The Power of Food and Exercise" by Petra Koukal, even "An Introduction to Meditation" by Brett Jennings, and "The Power of You" by Liz Christoffersen.
Advanced registration is $25 for students, and $75 for all others, with one-day passes and scholarships also available. Delta Sigma Pi is a partner in the 2014 1 Life Fully Lived Conference. For full conference information and to register, visit 1LifeFullyLived.com.
###