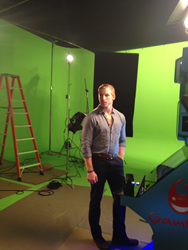 "It became clear that we could do a real service to our students by creating an index of sorts to share with entertainment professionals."-Sonya Cooke, owner of The Actor's Studio of Orange County
Santa Ana, California (PRWEB) October 16, 2014
In this competitive market, actors need all the help they can get. Acting schools can not only build confidence in an actor's craft but also facilitate exposure to industry contacts. Since the change of ownership and leadership nine months ago and the school's expansion to Los Angeles, students have demonstrated a greater presence in the industry. Due to the high success rate of its students, The Actor's Studio of Orange County is now keeping a database of their talented students, which will be shared with the community, interested industry members, and representation agencies.
The staff and faculty of the school have been recently and pleasantly surprised by the influx of booking rates and success. "The idea for the database developed organically," says owner Sonya Cooke; "At first, we were just letting people know about our students' successes, then we held a student showcase for agents and casting directors. From there, other industry people contacted us to help them find talent. Film producers started contacting us to work as consultants on films. It became clear that we could do a real service to our students by creating an index of sorts to share with entertainment professionals."
The Actor's Studio is proud of the work that their students are doing in class. They are also excited to share the work they are doing out of the studio with the outside world. Iris Gonzalez, a student who trained with owner, Sonya Cooke, for three years before joining the school as an administrative assistant, is working with the prestigious LA theater company, Cornerstone Theater Company. She is currently a part of the touring ensemble on their yearlong production across the state. This project, California: The Tempest, was recently reviewed in the Los Angeles Times. Instructor for the Kids Acting Class and student in the Advanced Class, Nasi Nassiri is traveling to Chicago in November to act in Love in a Day with Tenacious Entertainment. Last month, Eddie Villa-Lobos starred in Bender, as a part of the OC Centric New Play Festival (http://www.oc-centric.com), and just wrapped a project with South Coast Repertory. The production, The Long Road Today/El Largo Camino de Hoy, was produced with community partner, Latino Health Access, and performed at the Santa Ana Civic Center. (http://www.scr.org/dialogos). Lani O'Brien has been involved on various film projects including Poppin' the Question and Small Claims, where she implemented some of the techniques she developed from her work in the studio. Stefan Marchand has recently booked a short film with 999 Productions, and Brian Williams started rehearsals for an adaptation of Tolstoy's Anna Karenina at Capital Stage in Sacramento, CA.
To view this catalogue, visit the news page (http://www.asooc.com/#!news/c1gz4) and read more! As demonstrated by numerous testimonials from current and past students, The Actor's Studio of Orange County is giving their students the means to get work in various fields of entertainment. The studio aims to enable success in the entertainment industry for their students at all levels. They teach their students how to implement the tools they learn in the studio out in the real world. Now with their new interactive database they can continue to put their students name and talents out there in the industry.