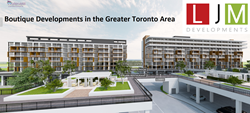 bringing this knowledge to bear on our local Ontario market will help not only investors and developers but the end consumer with smarter designs, better options, and possibly even better pricing
Burlington, Ontario (PRWEB) October 16, 2014
LJM Developments, local real estate developer and expert on the global real estate market is set to showcase their expertise at both The Property Show in Toronto on the 18th of October and the Ancaster Home Show October 17 – 19th.
With recent attendance at global real estate shows including MIPIM also known as the World's Property Market in Cannes, France, and Cityscape Global Real Estate Conference in Dubai, LJM brings a wealth of knowledge and experience to the Ontario market. The developer aims to share insights on the Canadian market from a global perspective.
Liaquat Mian from LJM explains "that bringing this knowledge to bear on our local market will help not only local investors and developers but the end consumer with smarter designs, better options, and possibly even better pricing." As a panelist at The Property Show, Liaquat Mian hopes to bring LJM's expertise to help shape future choices in the real estate market in Ontario.
LJM is a mid-market developer in the GTA (Greater Toronto Area) that focuses on development of residential and commercial property. On the residential side, the company focuses on development of homes, and luxury condominiums. LJM is known for constructing residential units that are functional, stylish, and meet the demand for greener buildings. By combining urban amenities, contemporary designs, and eco-friendly options in the GTA, LJM has been meeting the local demand at an affordable price.
The Property Show is Toronto's premier event for developers, consumers and investors to learn about the local real estate market and hear the expert opinions of the top professionals from the area.
The Ancaster Home Show on the other hand allows LJM Developments to showcase some of their ongoing developments that include Appleby Gardens Condominiums, Waterview Condominiums in nearby Grimsby, and Ironstone Condominiums in Burlington. Giving Ancaster and surrounding residents a possible reason to look to LJM Developments for their next home or business investment is exactly what the developer aims to achieve.
About LJM Developments
LJM Developments is a recognized industry leader in real estate development in Ontario, Canada. The company has developed highly-acclaimed signature projects in the residential and commercial sectors that are a perfect synergy of world class architectural design and cutting-edge construction quality. For more information, please visit the company website at http://www.ljmdevelopments.ca.
####
If you would like more information about this topic or need to make further press inquiries, please contact LJM Developments at 289-245-1900 or e-mail: info(at)ljmdevelopments(dot)ca.