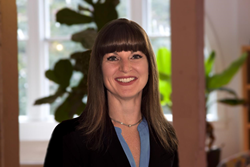 Vancouver, BC (PRWEB) October 16, 2014
Quini, an interactive wine tasting application and data solutions provider (http://www.quiniwine.com) today announced the appointment of Jennifer Anderson to the company's leadership team, as VP Revenue and Products.
With over 12 years of progressive roles in software solutions, data product innovation and market development, Jennifer will spearhead Quini's revenue and product strategy, and will lead the organization's sales and product development efforts.
Jennifer joins Quini from Yardi Canada, where she most recently managed the company's Point2 real estate data aggregation and syndication solutions and client acquisition teams.
"Jennifer has a long and successful history of driving products and sales growth in the enterprise data and consumer solutions markets," said Roger Noujeim, Quini's CEO. "Having worked alongside Jennifer for a number of years, I am delighted to welcome her to Quini and look forward to the leadership that she brings."
"I am excited to participate in Quini's market opportunity and to help realize its potential," said Jennifer. "Quini's data-driven solutions in the wine industry are unique and target an important void for more current wine tasting information. I am thrilled to join Quini and to start working with our partner and user base around the world."
During her long tenure at Yardi and Point2, Jennifer was instrumental to the companies' product innovation, data acquisition and customer network growth across North America. Jennifer moved to Point2 from Monsanto Canada Seeds, in 2002.
Jennifer earned her Bachelor of Commerce degree with a Marketing Major from the University of Saskatchewan.
About Quini
Quini is an interactive wine tasting application and data solution provider. In enterprise, Quini is used to access wine tasting market trends and analytics in real-time, streamline wine tasting data collection, aggregation and access, and to enhance wine education and staff wine training programs. Headquartered in Vancouver, BC, Quini is co-funded by the CMF (Canada Media Fund). Quini is available as a mobile application in English and French for iPhone and iPad, and for desktop, laptop and tablet computers at https://Quiniwine.com.
More information about Quini can be obtained at:
Web: quiniwine.com
Youtube: Quini video
Twitter: quiniwine
Facebook: quiniwine
LinkedIn: quini-wine
###
Quini, the Quini logo and the Quini Bloom are trademarks or registered trademarks of Rachis Wine Assessment Inc. and / or its affiliates in Canada, the U.S. and other countries. Third party trademarks and brands mentioned are the property of their respective owners.
Press Contact
Ashley Hargreaves
Quini T. 604.899.1179
E. ashley(at)quiniwine(dot)com