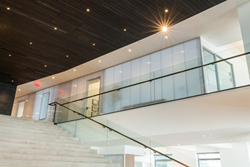 "The resulting aesthetic appears elegantly simple, yet it required strategic R & D from our team to achieve this," said David Miller, Duo-Gard's president.
Canton, Michigan (PRWEB) October 16, 2014
In designing the new Wall Street headquarters for Droga5, an internationally prominent advertising agency, the team at Rogers Partners Architects + Urban Designers wanted to combine natural light with privacy for its executive offices. The solution was a translucent interior wall system engineered by Duo-Gard Industries Inc. in Canton, Michigan.
The custom system from Duo-Gard's Stremeline offerings also provided the clean, contemporary aesthetic required by the architects. In continuous, 8'10" floor-to-ceiling runs of 75 feet to 100 feet, the 4,100 square feet of 40mm tongue-and-groove multiwall polycarbonate panels contain no mullions. Specially designed terminations continue the seamless look. The polycarbonate's opal tint allows 30 percent visible light transmission and projects it deep into the interior space.
"We designed with a democratic use of light and views," said Vince Lee, associate partner. "The main windows overlook the East River; the open offices are there. The executive offices on the north and south feature the translucent Duo-Gard system. It maintains light transmission while allowing privacy, and it integrates well with glass."
To meet the designers' demands for long, high runs, Duo-Gard's engineering team created a custom aluminum extrusion system to minimize panel deflection. It uses 16-foot aluminum strips with a face plate that slides over the base plate. The extrusion grabs top and bottom to reduce deflection. The engineers also created removable panels that allow access to heat registers.
"The resulting aesthetic appears elegantly simple, yet it required strategic R & D from our team to achieve this," said David Miller, Duo-Gard's president. "This project demonstrates the emerging transition of translucent polycarbonates from high-performance exterior glazing to interior applications that integrate aesthetics and superior design flexibility."
He added that the material carries a CC-1 Class A fire rating and is completely recyclable. "New tints and textures are adding to its architectural appeal for use in interior designs," he said, "and greater focus is being placed on interior space today as we learn more about how to create comfortable, productive and healthful environments."
According to architect Vince Lee, the Droga5 project reflects this: "Everybody's happy with the results and the use of this new material."
About Duo-Gard Industries Inc.: Duo-Gard Industries Inc. is a leading innovator in special-purpose shelters, as well as custom canopies, outdoor structures and high-performance daylighting systems. For over 30 years, Duo-Gard has advanced technology with design, engineering, fabrication and installation of custom architectural products that enhance sustainability. Duo-Gard was established in 1984 and is headquartered at 40442 Koppernick Rd, Canton MI 48187. The company was honored in May 2012 as one of the Michigan 50 Companies to Watch in 2012. For additional information, please visit http://www.duo-gard.com
Editorial contacts for Duo-Gard:
Julie Mead, Marketing Manager 810-623-0561 jmead(at)duo-gard(dot)com
Linda Byam, Marketing Consultant 248-761-7990 lbyam(at)duo-gard(dot)com