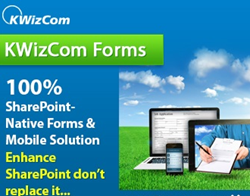 Toronto, ON (PRWEB) October 16, 2014
KWizCom, a leading developer of SharePoint Forms and Mobile Solution as well as multiple other top-notch web parts and add-ons designed to expand Microsoft SharePoint, announced the release of a major version for KWizCom Forms Enterprise edition. The customers will be relieved to find out that this new version enhances the overall mobile user experience and allows for more versatility and productivity on the go.
Some of the added features include:

Add a "Text page part" - in addition to the existing list view and Actions page parts, users can now further customize their tailored mobile pages and add free text
Support calendar view - we have added great-looking "Agenda" view which enables clients to clearly view their calendar and plan for their upcoming week
List search/filter - users can now easily filter their list by multiple columns and also do a free text search
Support content approval - dedicated Approve/Reject buttons are now available for content approvers in lists configured to support content approval
Support file upload - customers will also be able now to pick any image/video they have on their smartphone and effortlessly upload to SharePoint
If you would like to check these new additional features out, KWizCom offers a no-cost 30 day trial of KWizCom Forms.
Follow KWizCom on Twitter https://www.twitter.com/KWizCom
Become a fan of KWizCom on Facebook: https://www.facebook.com/KWizCom
Join KWizCom on LinkedIn: http://www.linkedin.com/company/kwizcom
Contact a KWizCom Account Specialist at +1-905-370-0333/+1-855-KWIZCOM or info(at)kwizcom(dot)com
About KWizCom Corporation
Since 2005, KWizCom has provided innovative solutions and services to make SharePoint even better for over 5,000 companies worldwide. KWizCom's solutions and services expand Microsoft SharePoint out-of-the-box capabilities, streamline workflow, maximize efficiency and enhance over-all productivity for hundreds of thousands of users. KWizCom, a Gold Certified Microsoft Partner, is headquartered in Toronto, Canada. Please visit www(dot)kwizcom(dot)com to find out more about KWizCom's clients, people, partners and solutions.