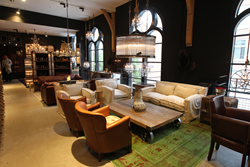 Working with eMazzanti has enabled us to create a scalable IT solution that we can roll out to multiple locations. It's a huge cost savings in the future development and growth of our company
Hoboken, NJ (PRWEB) October 16, 2014
eMazzanti Technologies, a New York City area IT consultant and managed services provider, has published a video and three new case studies showing how retail technology solutions from eMazzanti impress customers, save money and facilitate rapid store openings.
The video and three studies focus on a retail Tablet POS solution featuring Microsoft Windows 8 devices and eMazzanti's eCare Managed Print offering based on Xerox office print technologies.
The studies relate how Timothy Oulton, an international furniture retailer refreshed an aging and incongruous IT infrastructure with all new Microsoft and Xerox technologies to achieve three week store openings, cut printing costs and streamline sales processes.
Traditional networks and clunky PCs were replaced with sleek wireless devices standardized on the Windows 8 operating system. The technologies highlighted have been recently implemented at Timothy Oulton gallery locations in New York, New Jersey, San Francisco and Los Angeles.
"The future of Timothy Oulton is exponential growth," stated Chris McCullough, US Flagship Gallery Manager. "Working with eMazzanti has enabled us to create a scalable IT solution that we can roll out to multiple locations. It's a huge cost savings in the future development and growth of our company."
Below are a few excerpts from the case studies:
Read the full Retail Technology case study.
Read the full eCare Managed Print case study.
Read the full eMazzanti Rocks case study.
Retail Technology
Powerful and Dependable
Sales personnel in the stores are greatly impacted by the technology upgrade. "We use it from the moment we open to help customers, special order, close deals and to track important processes," stated Marquis Van Ness, Sales Ambassador. "The technology has to be very reliable because that's how we make our living in the store."
The Wow Factor
Advanced technology from eMazzanti has become a tool to drive revenues. "Technology becomes a valuable way to support your brand and engage your customers," Wilkerson says. "We have to stay one step ahead of them—wow them with cool things that they haven't seen in other stores." Wilkerson envisions innovations like a giant interactive touchscreen monitor in the store to promote a new exotic bedding line.
Three Weeks to Open
Thanks to the eMazzanti scalable technology solution, Timothy Oulton was able to open its New Jersey outlet store in just three weeks. "The Windows 8 Pro tablets that eMazzanti recommended contributed greatly to the speedup," Wilkerson says. "In Windows 8 Pro, I see something that's fresh and modern."
eCare Managed Print
eMazzanti recommended that Timothy Oulton standardize their printing with eCare Managed Print Services from eMazzanti and Xerox. "We knew that because Timothy Oulton operates in high-end retail, the printing technology had to perform flawlessly," stated Carl Mazzanti, President of eMazzanti Technologies.
"Now, they have one unit that scans, prints and faxes. They always have supplies and don't have to run around town to purchase more, or order the wrong cartridges. It simplifies a part of their job and creates an environment where they focus on items that are directly related to sales, not on understanding, maintaining and fixing hardware."
eMazzanti Rocks
What do Bruce Springsteen, Jimmy Fallon, Bobby Flay, Lady Gaga, Ann Hathaway, Robert De Niro and eMazzanti Technologies have in common? Having roots or operations in the New York City/New Jersey metro area puts them ryt n d mdL of one of the most competitive markets in the world.
Not only have they succeeded here, they ROCK! More than 400 metro area businesses rely on eMazzanti for the latest information technology and services. And, with international clients like Timothy Oulton, Pandora, FRP Apparel Group and the Sochi Olympic Winter Games, eMazzanti demonstrates global capabilities and worldwide success.
Other related resource information:
eMazzanti Delivers Worry-free IT Infrastructure and Security for KWI's Cloud-based Retail Platform
eMazzanti Delivers PCI Compliance Peace of Mind Enabling Growth for Home Goods Retailer
About eMazzanti Technologies
eMazzanti's team of trained, certified IT experts rapidly deliver cloud and mobile solutions, multi-site implementations, 24×7 outsourced network management, remote monitoring and support to increase productivity, data security and revenue growth for clients ranging from professional services firms to high-end global retailers.
Serving more than 400 Hoboken, NJ, NYC area and international customers, eMazzanti is Microsoft's 2012 Partner of the Year and 2013 Northeast Region Partner of the Year, a 5X WatchGuard Partner of the Year and has made the Inc. 5000 list five years running. Contact: Carl Mazzanti 201-360-4400 or emazzanti.net Twitter: @emazzanti Facebook: Facebook.com/emazzantitechnologies.
Download the free article: How to Select an IT Provider here.