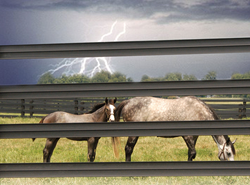 We feel your fencing pays for itself every time the brakes fail on one of our youngsters or a foal puts a leg through a rail. Centaur® Has a kept our seven horses injury free and given us peace of mind when we leave them. - Pass Christian, MS
Muscle Shoals, AL (PRWEB) October 17, 2014
Centaur® celebrates 27 years of equine protection. Established in 1987, Centaur® is the originator of reinforced flexible rail equine fencing. Centaur® has a full line of reinforced flexible rail, both electric and non-electric, and coated single wire fencing that utilizes high tensile wire technology. The Centaur® flexible rail fence is veterinarian approved and built to last. The flexible rail system safely contains and protects horses from serious fence injuries.
For decades, several leading horse farms have trusted Centaur® fencing to protect top foals and thoroughbreds. Utilizing technology from the automobile industry, Centaur® fence materials are built to withstand extreme temperature changes and provide decades of secure containment with minimal maintenance. Centaur® fence installs faster than wood or PVC and does not splinter, rust, rot or crack. This flexible rail system has traditional looks without the traditional problems associated with wood fencing.
Centaur® provides decades of worry-free fence ownership without painting, cribbing, board replacement or serious fence injuries. Owner and inventor Ed Robbins prides himself on inventing a safer solution to traditional horse fencing. When considering fence options, install an asset, not a liability.
Centaur® flexible rail fence is proudly manufactured in Muscle Shoals, Alabama by American workers and shipped worldwide.
Visit our website to read customer testimonials and see how we can help protect your horses.
For more information on our full product line, visit http://www.centaurhorsefence.com or call 1-800-348-7787.