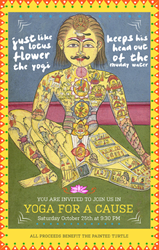 Register online now at http://bit.ly/ZCpyah.
Santa Monica, CA (PRWEB) October 16, 2014
Traditional yoga is taught very differently from how it's learned in America, and instructor Ryan Silvers is elated to offer locals a chance to experience what he coins "the next stage of yoga". Join Silvers Saturday, October 25 at 9:30 PM at Yogis Anonymous in Santa Monica for the 'Yoga for a Cause SM' event benefiting The Painted Turtle.
In 2000, Silvers was diagnosed with Crohn's disease— a chronic illness that forced him to become bedridden and prescribed 20 medications to be consumed daily. Through the consistent practice of meditation, breathing and yoga techniques, Silvers finally experienced relief and health.
"I decided to host this event because I want people to understand what someone with a chronic disease may have to go through every day," says Silvers. "When I heard about The Painted Turtle and saw these kids who were on the same path that I was, and had to go through the same things I did, I knew they might not be able to voice what it's like, but I could."
Yoga for a Cause SM will offer traditional yoga practices, and breathing and mediation exercises, that have been passed down from yogi to yogi for more than 5,000 years— taught to Silvers by his teacher from India and ancient yogis and gurus he met while traveling through the Himalayas. The class will specifically teach:
-Yoga postures to stretch the body and calm the mind.
-Energy gathering exercises - standing, gentle breathing/meditation exercises.
-Pranayama - breathing experiences that involve controlling the breath through different breathing ratios.
-Raja Yoga - traditional meditation exercises.
Aside from learning yoga, guests will hear both a personal dialogue from Silvers and a brief presentation from The Painted Turtle. While the event is free, attendees are encouraged to donate if inspired. Register online now at http://bit.ly/ZCpyah.
About The Painted Turtle:
In 1999 The Painted Turtle was co-founded by Paul Newman along with a group of local dedicated individuals. The Painted Turtle provides a year-round, life-changing environment and authentic camp experience for children with serious medical conditions. The Painted Turtle supports children's medical needs, inspires them to reach beyond their illnesses, and provides care, education and respite for their families. All campers and families attend completely free of charge.
About Ryan Silvers:
In spring of 2000, Ryan Silvers was diagnosed with Crohn's disease. Within one month of being diagnosed, Ryan became bedridden and consumed 20 pills a day. After struggling with the disease for years, Ryan decided to dispose of his medicine, and he began to practice yoga. It was through daily practice that Ryan finally experienced relief and health. Looking for a way to share his newfound knowledge with others, Ryan came in contact with The Painted Turtle. When he saw kids who were on the same path that he endured, Ryan was inspired to coordinate the event, Yoga for a Cause SM.