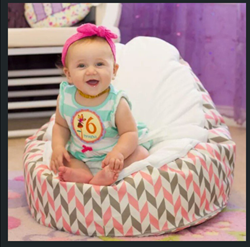 Snugglish breaks away from the boring mold of ordinary baby seats, and strives to improve both the minds and bodies of children from its plush water-resistant exterior, all the way down to secret bearing pattern!
Los Angeles, CA (PRWEB) October 16, 2014
Totlings ; Babies with wings
Totlings baby care company has developed a one of a kind baby floor seat named the Snugglish, a product that addresses the many health concerns associated with resting positions in infants and young children.
Totlings recently launched its brand new website with various interactive options, Totlings
Totlings is a small company dedicated to making a big improvement in early childhood development through innovative products. The company has over ten years of experience in the furniture industry, and an extensive background in both medical research and psychology. Their experiences led to the creation of the Snugglish, a seat that aids in the reduction and prevention of many early childhood health issues, while still being efficient and modern. According to Totlings, this multi-faceted product "breaks away from the boring mold of ordinary baby seats, and strives to improve both the minds and bodies of children from its plush water-resistant exterior, all the way down to it's micro-beaded core."
Snugglish comes from pervasive medical research and safety testing and development, in an effort to create the most comprehensive solution to many parenting concerns. Medical experts believe there is a link between health issues and the resting position of a baby. Placing babies on their backs decrease the chance of SIDS, but increases the risk of Plagiocephaly, or "flathead syndrome," which has been linked to learning and developmental problems later on in life. Improper positioning can also cause Gastroesophageal Reflux (GER), which may lead to Laryngomalcia (LM). They also target the prevention of childhood amnesia, the inability to connect or recollect moments from ones childhood, and attempts to instill values and self-worth early on by creating a fairytale themed back-story for each item.
Snugglish aids with the prevention of two stressful symptoms found in new parents: "Worried Mom Syndrome" and "Tired Mom Syndrome." moms get physically exhausted on a daily basis, and worry about their newborn at all times. Snugglish provides a safe option for children, and peace of mind to new parents. It is also in the possession of several celebrity moms such as Ciara, Megan Hilty, Edyta Sliwinska, and Teresa Palmer.
The Snugglish is patented, CPSIA Child Seat Safety and Stability certified and lab tested to help prevent Acid Reflux, LM, and Flathead Syndrome. Babies are secured in an upright position by a 3-way strap, but it can be adjusted to lay flat and serve as a mattress. The product comes with two water-resistant velvet tops and is interchangeable to one without a strap to become suitable for children up to the age of ten. The plush top is backed up by a layer of foam for added comfort, and also features microballs that are bound together by static to contour to any baby and absorb their weight evenly. Snugglish base cover comes with two different approaches: mind stimulating patterns on Oxford fabric or calm inducing patterns on leatherette, and have a total of eight different designs that are durable and easy to clean/maintain. It is available through purchase online through http://www.totlings.com and major retailers online.
Totlings is a brand dedicated to provide a positive influence on both children's' minds and bodies. Their debut product, Snugglish, conveys their commitment to the exploration of prevention of early childhood health issues, and maximizes the efficiency of a "baby seat." To learn more about Totlings and their products visit http://www.totlings.com.
Contact:
Kristen Venard, PR Manager
818-734-4849
Kristen(at)totlings(dot)com