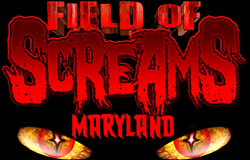 We were appreciative that we were chosen by A&E and Tiny House Nation to compete and we could not have had a better or more professional crew to work with
Olney, MD (PRWEB) October 16, 2014
Field of Screams Maryland won the first-ever haunted house design and build competition on A&E Network's Tiny House Nation. The show included Field of Screams Maryland competing against nationally recognized haunted house builders, Nightmare on 13th (Salt Lake City, UT) and Queen Mary's Dark Harbor (Long Beach, CA). The show will re-air through Halloween and into next season.
The victory came after a rigorous application, audition and selection process in which all three design teams beat out numerous competitors from across country just to make it onto the show. The competitors spent four 20-hour days designing and building their haunted houses and they were unveiled to the community who were then invited to vote to determine which team built the best tiny haunted house.
Field of Screams Maryland, which has been operating for 14 years and is managed, designed, and built by Steelhead Productions, is the largest and most popular multi-haunt in Maryland, DC, Virginia and Delaware and was recently voted best haunted forest and haunted house. Field of Screams Maryland hosts a horrifying haunted trail, haunted house, and haunted hayride.
Proceeds from the Field of Screams Maryland event help benefit the youth sports leagues of the Olney Boys & Girls Club (OBGC). OBGC Board of Directors Chair, Dan Dionisio is not only thrilled with the results of the Tiny House Nation competition, but is excited at the added exposure for Field of Screams Maryland. "Our people work hard year-round and winning a national competition in a manner that shows our customers what we do for them and what goes into these builds is a rare opportunity. We were appreciative that we were chosen by A&E and Tiny House Nation to compete and we could not have had a better or more professional crew to work with," said Dionisio.
Over the past four years, Steelhead Productions continues to elevate the annual event's popularity. Their attention to detail is the cornerstone of Field of Screams Maryland's reputation for excellence. "We have challenged the team to improve the haunt experience for our guests every year and striving to be the best," said Dionisio. "There is a clear distinction between haunts and our approach embodies the customer experience by paying attention to every detail including the scenes, make-up and acting, down to the compound and our 15 bonfires and concessions like fried twinkies, oreos and apple pie to funnel cakes, burgers and the smores you can cook over our open fires."
With their haunted house victory on Tiny House Nation,Field of Screams Maryland and Steelhead Productions adds to an impressive resume of accomplishments in the haunt and scenic design space as one of the country's top design, make-up, and acting troupes.
Field of Screams is located on 40 acres midway between Baltimore and DC off Route 95- conveniently located 30 minutes from D.C., Baltimore and northern Virginia.
Tiny House Nation, which launched in early July on A&E's FYI channel, boasts over one million weekly viewers and was one of cable's fastest growing shows in 2014. As a spinoff from its regular format, the show conducted a nationwide search for the best haunts and haunt designers in the country to see which designers and builders could transform beautiful homes into tiny haunted houses. Tiny House Nation is leading the largest trend in residential real estate following renovation experts and hosts John Weisbarth and Zack Giffin, as they travel across America to show off ingenious small spaces and the inventive people who live in them.
For more information about Field of Screams Maryland, visit Screams.org. or Steelhead Productions visit SteelheadEvents.com. Field of Screams Maryland is also on Facebook, Twitter (@FieldofScreamMD), and Instagram (@fieldofscreamsmaryland).
# # #
About OBGC
The Olney Boys Club was established in 1969 and in 1971 changed its name to the Olney Boys and Girls Club (OBGC) to better characterize the mission of the organization and its members. Over the years, OBGC has provided extracurricular sports for an estimated 45,000 children in the Olney area and currently has nearly 7,000 children that play sports for the Club annually. The ages of our members range from 5 to 18 years old and who play numerous sports including: baseball, soccer, football, baseball, softball, T-ball, wrestling, cheerleading, basketball, field hockey and lacrosse at various skill levels. Visit http://www.OBGC.com.
Media Contact: Ariel Levis
Email: marketingdir(at)obgc(dot)com
Phone: (301) 570-7049