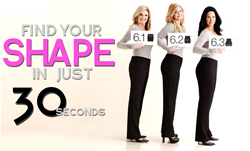 Just like bust sizes measure cup size from small to large, FitLogic fits your butt like it was custom made.
Los Angeles, CA (PRWEB) October 15, 2014
As smartphones evolve from a luxury to mainstream must have for U.S. consumers, increasing numbers have taken of the convenience of their mobile device to shop for clothes. And while this trend continues to grow and help skyrocket mcommerce purchases to $52.17 Billion dollars this year, so does frustration over the sizing inconsistencies that result in 50-percent return rate in women's online clothing. One company has a solution that could end that problem for good!
Enter - The Little Black Pant™ with Fitlogic®
Last year, shoppers saw the glimmer of hope they had been desperate for. It came in the form of a new product known as the Little Black Pant, the only pant on the market that features the patented Fitlogic sizing system. And the reaction was immediate. Those who tried it wanted more.
Fitlogic was first introduced several years ago by fashion industry veteran, Cricket Lee, who spent more than a decade developing and testing the technology that solves the sizing problem for 96 percent of women.
"It's a simple idea," says Lee. "First we standardize the size, so an 8 is always an 8. Then we add a second number to describe shape. Depending on her body type, a size-8 woman might be an 8.1, 8.2 or 8.3. Once she knows her size-and-shape numbers, she can buy with confidence, knowing she'll get the same great fit every time. Just like bust sizes measure cup size from small to large, FitLogic fits your butt like it was custom made."
If the concept sounds familiar, that may be due to the spate of shape-based fit systems inspired by the media buzz over Fitlogic's 2008 launch. Apparel manufacturers attempted to duplicate the concept only to discover that while the idea behind Fitlogic may be simple, the science behind Lee's patented system is not. Other attempts to solve the sizing problem, including body-scanning systems, have failed to gain traction as well.
Fitlogic: Designed to fit all apparel brands
Lee's original idea was to offer the Fitlogic sizing system to the fashion industry. "My dream is for apparel makers to incorporate Fitlogic into their brands," she says, "the way Thinsulate is used as a branded ingredient in outerwear — or Intel inside computers."
After years of delays as the fashion industry dragged its heels in adopting Fitlogic, last year Lee set out to demonstrate consumer demand for her system by offering her own retail product: the Little Black Pant, a slim-fitting pant in year-round poly-rayon with just a touch of spandex. Available in two styles, it sells for $59.95.
The Little Black Pant has been sold online and has grown in popularity since it's launch. The website's new interactive FitFinder walks each woman through a simple process for accurately finding her Fitlogic size/shape number in 30 seconds. Because shipping is free, shoppers have an opportunity to try out both the Little Black Pant and the Fitlogic sizing system risk-free.
Shaping the future of shopping, one woman at a time.
While Lee is thrilled with the demand for the Little Black Pant, she's even more excited about shoppers' response to the Fitlogic system. "So many women tell me this is the key to making online shopping work for them," she says. "They want to be able to order clothes and know they're going to fit. And they have the power to get it, just by speaking up."
As more and more women shop online, their patience with merchandise returns can only diminish. "Fitlogic solves the one big negative in online clothes shopping," Lee contends. "Women who try the Little Black Pant with Fitlogic get a chance to experience the future of shopping — a time when they can pick up a smartphone and order clothes with absolute confidence of the right size." That future is NOW!
The Little Black Pant is on sale for only 4 days during the official anniversary. For only $39.95, risk-free, every woman should pick up a pair… or three!